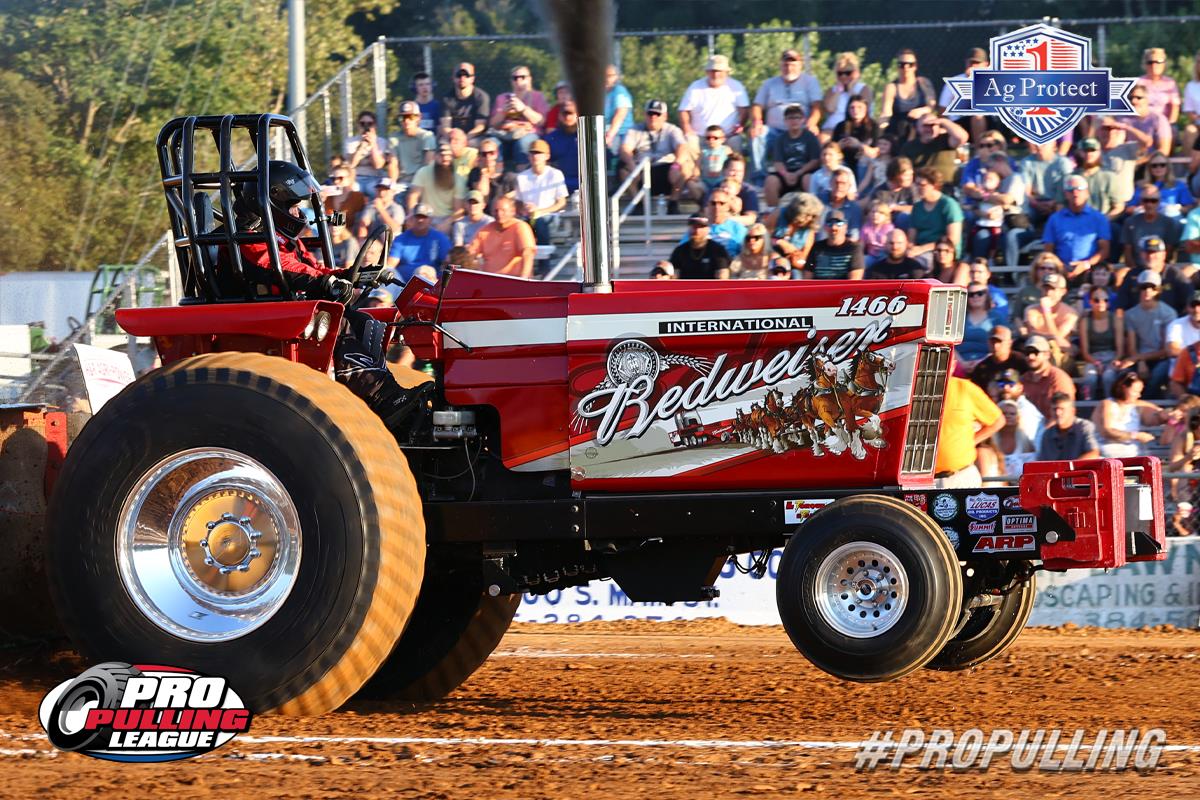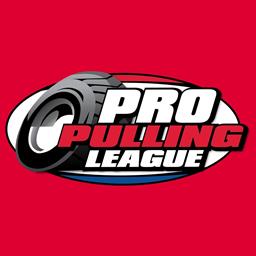 11/18/2023
Pro Pulling League
---
Roe Clinches First Super Farm Title on Ag Protect 1 Midwest Region in Ultra-Close Battle
Sellersburg, IN (November 18th, 2023) – Two sessions of pulling at two Southern Indiana tracks in two straight days would determine the winner of the 2023 Super Farm Championship in the Ag Protect 1 Midwest Region of the Pro Pulling League. No mistakes, missteps, no compromise would be the name of the game to take the title. In what could have been called the U.S. 41 shootout, the road that connects the two venues, the title would go to a tiebreaker to declare a winner.
The first session of action took place on July 8th at the Vigo County Fair in Terre Haute, Indiana, where Jeremy Roberts and the "Wicked Whitetail" Deere would take the early points lead with the win, with Eddie Roe and the "Redweiser" IH in second and Josh Miley and his "High Maintenan$e" CaseIH in third. The next evening on July 9th the Super Farm contingent gathered 80 miles south of Terre Haute in Princeton, Indiana for the Gibson County Fair event. Shane Masten and the "Thumpin' Pumpkin" AGCO would be victorious in Princeton, with Mac Darnell (not running for points) and the "Maximum Overdrive" in second, Miley in third and Roe in fourth. Roberts, who finished sixth in this stellar group of tractors, would end up with 92 points, two points behind Miley and Roe in the final standings who were deadlocked at 94 points each. It was that second place finish for Roe at Terre Haute that would break the tie with Miley, giving him his first Super Farm Title.
Congratulations to Eddie on your close, hard-fought overall win!
Eddie, along with other points champions from the Ag Protect 1 Midwest Region, Hart's Diesel Silver Series, and Champions Tour will be recognized tonight, Saturday, November 18th at the Champions Tour banquet at the Hyatt Regency in Louisville, Kentucky.
About Ag Protect 1
Ag Protect 1 offers Commercial Inland Marine, Business Auto Liability, and General Liability for Specialty Vehicles, Teams, Trailers, Motor/Toter homes, and spare parts. Policy length is 12 months, renewable each year. Ag Protect 1 also offers Event Insurance and Prize Indemnity. They have 12 Agents throughout the Midwest so they can help no matter where you live. Call them at 877-452-3012 or check out their website at AgProtect1.com
About Pro Pulling League:
Now in its 18th season, the Pro Pulling League continues as the world's largest truck and tractor pulling sanctioning body, featuring 250+ sessions of competition across twenty states through the Champions Tour, Silver Series, Champion Seed Western Series, Ag Protect 1 Midwest Region and their member-states.
For the latest in news from the Pro Pulling League stay tuned here at www.propulling.com and follow us in social media: On our Facebook page, on Twitter (@propulling), and on Instagram (propullingleague). Our YouTube channel (@propullingleague) offers exciting truck and tractor pulling action from past events.
2023 Pro Pulling League Marketing Partners
Lucas Oil
Official Oil of the Pro Pulling League
ARP (Automotive Racing Products)
Official Fastener of the Pro Pulling League
MAC Trailer
Official Trailer of the Pro Pulling League
Coal Train Energy
Associate Sponsor of the Pro Pulling League
CM Pulling Tires
Official Tire Cutter of the Pro Pulling League
Fleece Performance
Associate Sponsor of the Pro Pulling League
Optima Batteries
Associate Sponsor of the Pro Pulling League
SCS Gearbox and Probell Racing
Associate Sponsor of the Pro Pulling League
Champions Tour Marketing Partners:
Summit Racing Equipment - Mitas Agricultural Tires - Fair Valley Performance Lemke Motorsports - FloRacing - Powersport Parts Warehouse
Hart's Diesel Silver Series Marketing Partners:
Advanced Yield - Kawasaki Parts Warehouse
Champion Seed Western Series Marketing Partners:
Tuff Wireless - Sancrest Trailer Sales - Sancrest Specialized Transport - No Way Man Diesel - Northwoods Engineering
Ag Protect 1 Midwest Region Marketing Partners:
Wagler Motorsports - Freedom Racing Engines
---
Submitted By: Bryan Lively
Back to News