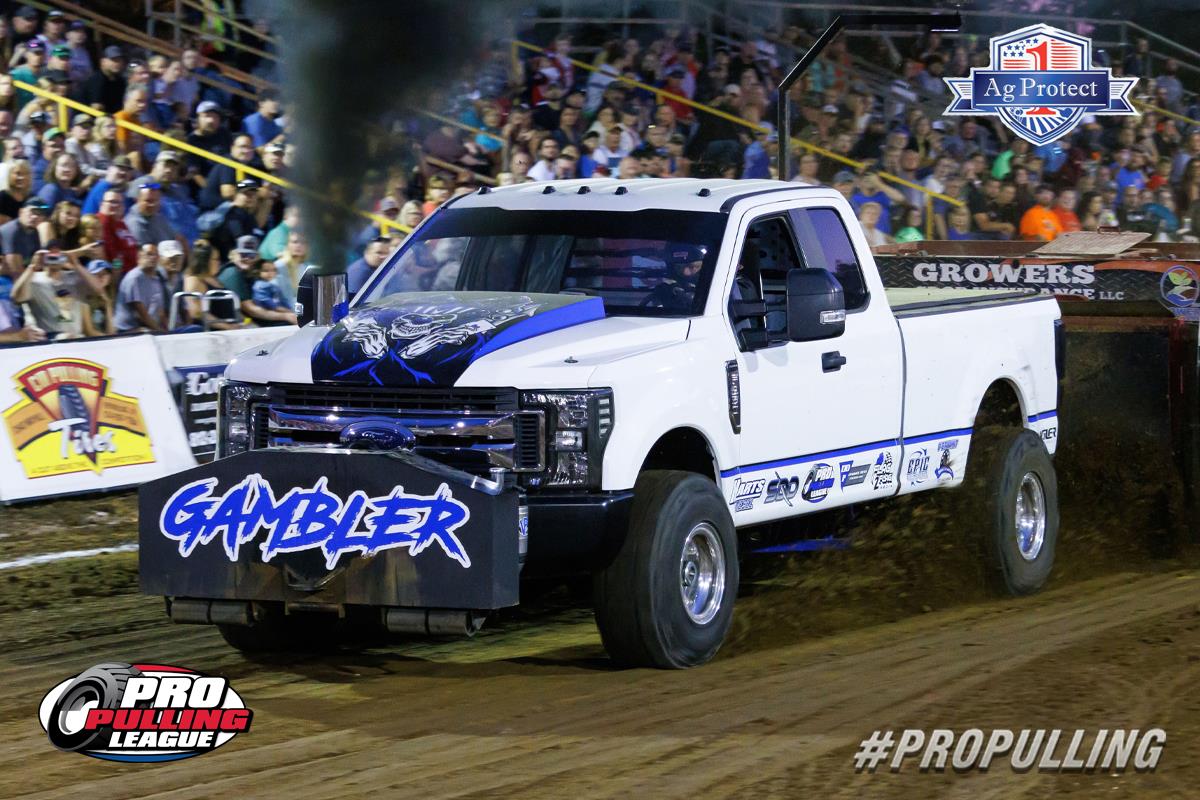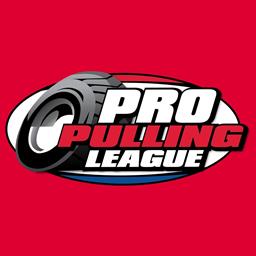 11/16/2023
Pro Pulling League
---
White Goes All In For Wagler Competition Products Limited Pro Stock Diesel Title in Ag Protect 1 Midwest Region Competition
Sellersburg, IN (November 16th, 2023) – Our spotlight on the Ag Protect 1 Midwest Region continues with focus on the Wagler Competition Products Limited Pro Stock Diesel Truck division. After a hard-fought season that came down to the final two sessions at the Lanesville Heritage Weekend in Lanesville, Indiana, Austin White and the "Gambler" Ford went "all-in" for the points championship and won the 2023 title.
Coming into Lanesville there was a tight points race featuring Jordan Jackson and the "Billet Steel and Sex Appeal" Dodge with a slim two-point lead over White, with Tim Tuttle and the "Common Cents" Dodge and Paul Richardson and the "Fancy Hooker" Chevrolet close behind and in contention for the title as well. White would score a second and a first on the weekend in Lanesville while Jackson picked up a fourth and third place finish, securing White the championship by a six point margin. Richardson would lock down a third in points with a pair of fifth-place finishes while Tuttle would finish six points behind Richardson in fourth.
Congratulations to Austin on his 2023 title! He will be honored this weekend, Saturday, November 18th at the Pro Pulling League Champions Tour Banquet at the Hyatt Regency in Louisville, Kentucky for his outstanding efforts!
About Wagler Competition Products:
Located in the heart of a diesel community in Southern Indiana, Wagler Competition Products takes pride in providing innovative diesel performance products to our customers.
Owner, Jeremy Wagler has always been in the automotive field, and has a true passion for the world of diesel. After owning an automotive repair shop for ten years, he pursued his dream of developing an aftermarket cylinder head for a well-known diesel engine.
In 2011, Wagler Competition Products was established when he successfully made that dream a reality with the development of an aftermarket cylinder head for the Duramax engine. From that point to the present, Wagler Competition products continues to research and develop factory bolt-on performance parts for various diesel engines.
Wagler Competition Products is one of the few facilities able to offer all in-house services.They have the capability of taking a bare head casting to a complete engine build then to the final stage of dyno testing all in-house. For more information, please call (812) 636-0391, email at sales@WaglerCompetition.com, or visit their website at www.WaglerCompetition.com.
About Ag Protect 1
Ag Protect 1 offers Commercial Inland Marine, Business Auto Liability, and General Liability for Specialty Vehicles, Teams, Trailers, Motor/Toter homes, and spare parts. Policy length is 12 months, renewable each year. Ag Protect 1 also offers Event Insurance and Prize Indemnity. They have 12 Agents throughout the Midwest so they can help no matter where you live. Call them at 877-452-3012 or check out their website at AgProtect1.com
About Pro Pulling League:
Now in its 18th season, the Pro Pulling League continues as the world's largest truck and tractor pulling sanctioning body, featuring 250+ sessions of competition across twenty states through the Champions Tour, Silver Series, Champion Seed Western Series, Ag Protect 1 Midwest Region and their member-states.
For the latest in news from the Pro Pulling League stay tuned here at www.propulling.com and follow us in social media: On our Facebook page, on Twitter (@propulling), and on Instagram (propullingleague). Our YouTube channel (@propullingleague) offers exciting truck and tractor pulling action from past events.
2023 Pro Pulling League Marketing Partners
Lucas Oil
Official Oil of the Pro Pulling League
ARP (Automotive Racing Products)
Official Fastener of the Pro Pulling League
MAC Trailer
Official Trailer of the Pro Pulling League
Coal Train Energy
Associate Sponsor of the Pro Pulling League
CM Pulling Tires
Official Tire Cutter of the Pro Pulling League
Fleece Performance
Associate Sponsor of the Pro Pulling League
Optima Batteries
Associate Sponsor of the Pro Pulling League
SCS Gearbox and Probell Racing
Associate Sponsor of the Pro Pulling League
Champions Tour Marketing Partners:
Summit Racing Equipment - Mitas Agricultural Tires - Fair Valley Performance Lemke Motorsports - FloRacing - Powersport Parts Warehouse
Hart's Diesel Silver Series Marketing Partners:
Advanced Yield - Kawasaki Parts Warehouse
Champion Seed Western Series Marketing Partners:
Tuff Wireless - Sancrest Trailer Sales - Sancrest Specialized Transport - No Way Man Diesel - Northwoods Engineering
Ag Protect 1 Midwest Region Marketing Partners:
Wagler Motorsports - Freedom Racing Engines
---
Submitted By: Bryan Lively
Back to News