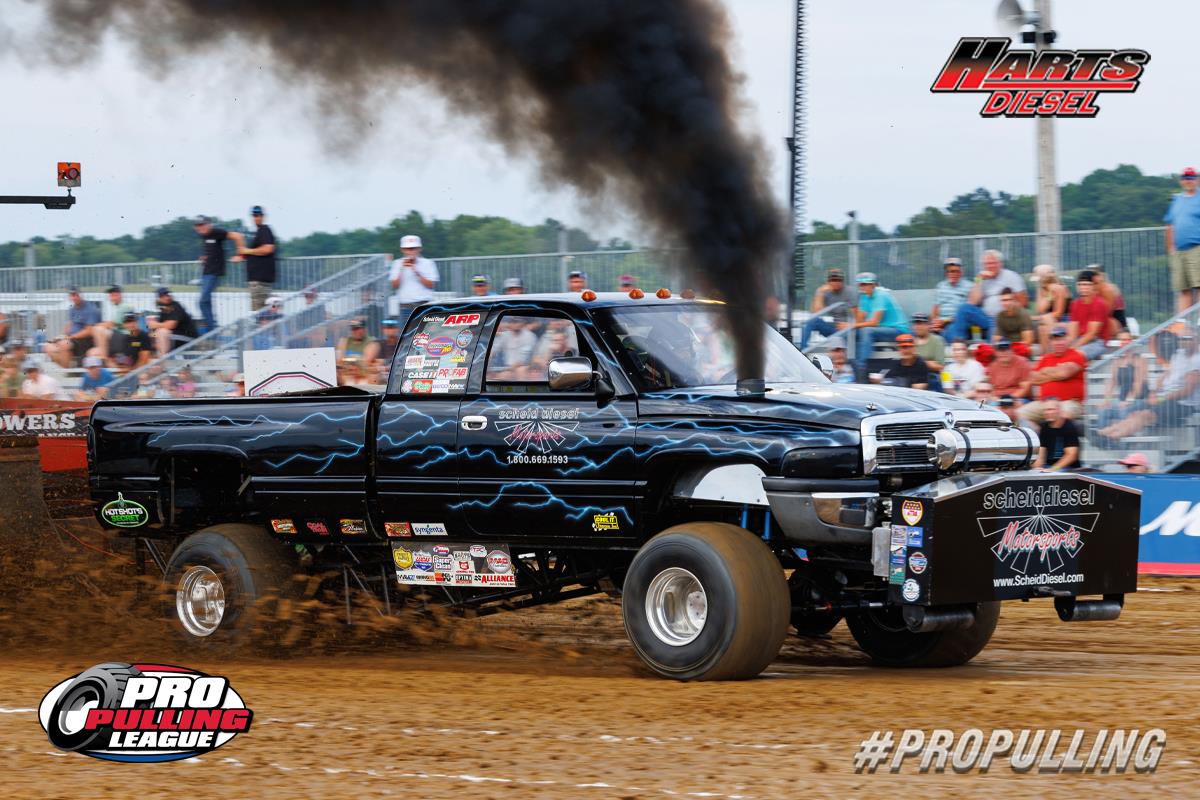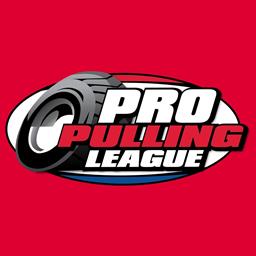 11/15/2023
Pro Pulling League
---
Ingram Clinches Second Pro Stock Diesel Truck Title on Hart's Diesel Silver Series in 2023
Sellersburg, IN (November 15th, 2023) – With five sessions of competition in 2023 for the Pro Stock Truck class on the Hart's Diesel Silver Series, the stakes were exceedingly high to capture the championship. When the final hook was made at the Scheid Diesel Extravaganza, hosted by Wagler Motorsports Park in Lyons, Indiana, Brady Ingram and the Scheid Diesel Dodge stood atop the class using top-flight consistency to secure his second title.
With four different drivers netting the five possible points wins, Ingram would go winless but finish no lower than fourth in points in each session across the campaign. Brad Ingram, who won a title himself wheeling the truck, pinch-hit at the wheel for Brady at that final session of SDX to cement the title. Second in points would go to the tandem of Josh Stahl and Chris Lemke, who drove the "Thicker N' Blood" Dodge to one win and three fifth-place finishes to lock in their position on the podium. Third in points went to the 2022 champion Matt Penn and his "Penn Farms" Dodge on the strength of two wins.
Congratulations to Brady, Brad and the Scheid Diesel team for this 2023 title run! They will be honored Saturday, November 18th at the Pro Pulling League Champions Tour Banquet at the Hyatt Regency in Louisville, Kentucky.
About Hart's Diesel:
From their website, www.HartsDiesel.com : "Established in 1996, we have over four decades of experience in the pulling and agricultural industry. We are committed to our customers and strive to make you thrilled with our diesel performance parts and repair and maintenance services. Our reputation and strong relationships with the top tractor and truck pulling teams in the industry prove satisfaction among our customers. Our diesel performance parts include turbo chargers, fuel injection pumps, and injectors for our pullers, performance gurus, and farmers. We also offer services for repair and rebuilds on performance and agricultural parts along with all the extra accessories you may need."
About Pro Pulling League:
Now in its 18th season, the Pro Pulling League continues as the world's largest truck and tractor pulling sanctioning body, featuring 250+ sessions of competition across twenty states through the Champions Tour, Silver Series, Champion Seed Western Series, Ag Protect 1 Midwest Region and their member-states.
For the latest in news from the Pro Pulling League stay tuned here at www.propulling.com and follow us in social media: On our Facebook page, on Twitter (@propulling), and on Instagram (propullingleague). Our YouTube channel (@propullingleague) offers exciting truck and tractor pulling action from past events.
2023 Pro Pulling League Marketing Partners
Lucas Oil
Official Oil of the Pro Pulling League
ARP (Automotive Racing Products)
Official Fastener of the Pro Pulling League
MAC Trailer
Official Trailer of the Pro Pulling League
Coal Train Energy
Associate Sponsor of the Pro Pulling League
CM Pulling Tires
Official Tire Cutter of the Pro Pulling League
Fleece Performance
Associate Sponsor of the Pro Pulling League
Optima Batteries
Associate Sponsor of the Pro Pulling League
SCS Gearbox and Probell Racing
Associate Sponsor of the Pro Pulling League
Champions Tour Marketing Partners:
Summit Racing Equipment - Mitas Agricultural Tires - Fair Valley Performance Lemke Motorsports - FloRacing - Powersport Parts Warehouse
Hart's Diesel Silver Series Marketing Partners:
Advanced Yield - Kawasaki Parts Warehouse
Champion Seed Western Series Marketing Partners:
Tuff Wireless - Sancrest Trailer Sales - Sancrest Specialized Transport - No Way Man Diesel - Northwoods Engineering
Ag Protect 1 Midwest Region Marketing Partners:
Wagler Motorsports - Freedom Racing Engines
---
Submitted By: Bryan Lively
Back to News