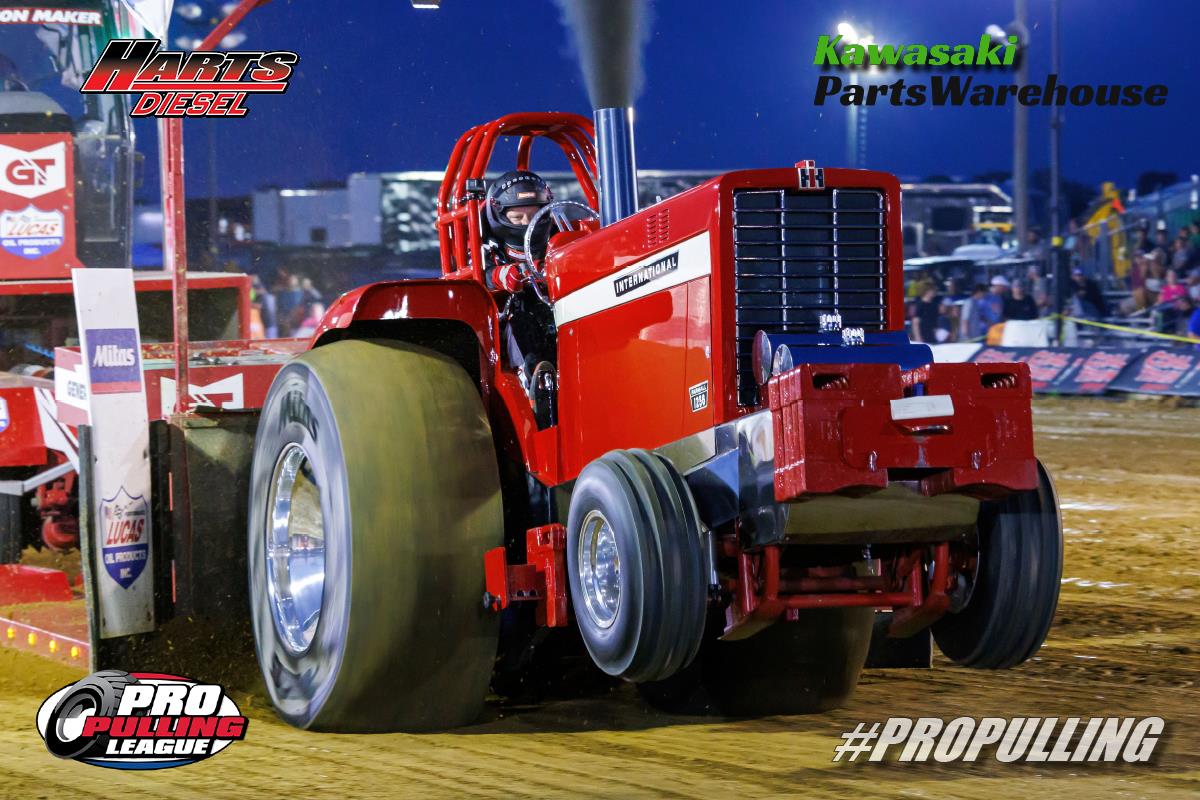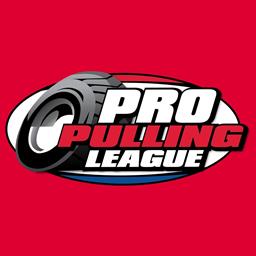 11/10/2023
Pro Pulling League
---
Cox Crowned Kawasaki Parts Warehouse Limited Pro Stock Champion on Hart's Diesel Silver Series
Sellersburg, IN (November 10th, 2023) – Today we shift from the Champions Tour of the Pro Pulling League to the Hart's Diesel Silver Series and focus specifically on the Kawasaki Parts Warehouse Limited Pro Stock Tractor division. After multiple championships on the Champion Seed Western Series, Adrian Cox and his "Hickory Hooker" IH from Trenton, Missouri claimed their first Silver Series title in 2023.
While Cox had a stellar season highlighted by three first-place points finishes and a string of top five placings, it was a two-tractor clash for the championship at the season-ending Scheid Diesel Extravaganza. Cox and Brett Hackstadt, who pilots "618 Motorsports" CaseIH, were separated by eight points entering SDX. Hackstadt would get the win (his lone victory in 2023) at SDX but Cox pulled into the third spot, securing the 2023 championship by a scant four points. The "Runnin' in the Red" IH campaigned by Tom and Nick Gallitz secured the third spot in the final points tally.
Join us in congratulating Adrian as he is honored at the Pro Pulling League Champions Tour Banquet on Saturday, November 18th at the Hyatt Regency in Louisville, Kentucky.
About Hart's Diesel:
From their website, www.HartsDiesel.com : "Established in 1996, we have over four decades of experience in the pulling and agricultural industry. We are committed to our customers and strive to make you thrilled with our diesel performance parts and repair and maintenance services. Our reputation and strong relationships with the top tractor and truck pulling teams in the industry prove satisfaction among our customers. Our diesel performance parts include turbo chargers, fuel injection pumps, and injectors for our pullers, performance gurus, and farmers. We also offer services for repair and rebuilds on performance and agricultural parts along with all the extra accessories you may need."
About Powersport Parts Warehouse and Kawasaki Parts Warehouse
Powersport Parts Warehouse is a subsidiary of Holzhauer Pro Motorsports. With over 1,000 Powersports in stock and a network of dealerships to work with Holzhauers can find almost anything you are looking for and price it at that low Holzhauer Price. We are dedicated to the Customer Satisfaction you deserve on every deal!
Holzhauer Pro Motorsports is an authorized Can-Am®, Honda, Kawasaki, Sea-Doo®, SunChaser, Mahindra and Yamaha dealership. We carry a large selection of new and pre-owned inventory and have a full sales, service, and parts department with friendly and experienced staff ready to meet your needs! Visit our dealership in Nashville, near St. Louis, or call us Monday through Friday, 8AM to 6PM or Saturdays, 8AM to 5PM, for all your powersports needs! Come see what makes Holzhauer Pro Motorsports the best motorsports dealership serving Missouri, Illinois, and Kentucky!
We are proud to serve you and your family yesterday, today, and tomorrow with quality service and great products! Visit www.powersportpartswarehouse.com or wwwwww.kawasakipartswarehouse.com for more information!
About Pro Pulling League:
Now in its 18th season, the Pro Pulling League continues as the world's largest truck and tractor pulling sanctioning body, featuring 250+ sessions of competition across twenty states through the Champions Tour, Silver Series, Champion Seed Western Series, Ag Protect 1 Midwest Region and their member-states.
For the latest in news from the Pro Pulling League stay tuned here at www.propulling.com and follow us in social media: On our Facebook page, on Twitter (@propulling), and on Instagram (propullingleague). Our YouTube channel (@propullingleague) offers exciting truck and tractor pulling action from past events.
2023 Pro Pulling League Marketing Partners
Lucas Oil
Official Oil of the Pro Pulling League
ARP (Automotive Racing Products)
Official Fastener of the Pro Pulling League
MAC Trailer
Official Trailer of the Pro Pulling League
Coal Train Energy
Associate Sponsor of the Pro Pulling League
CM Pulling Tires
Official Tire Cutter of the Pro Pulling League
Fleece Performance
Associate Sponsor of the Pro Pulling League
Optima Batteries
Associate Sponsor of the Pro Pulling League
SCS Gearbox and Probell Racing
Associate Sponsor of the Pro Pulling League
Champions Tour Marketing Partners:
Summit Racing Equipment - Mitas Agricultural Tires - Fair Valley Performance Lemke Motorsports - FloRacing - Powersport Parts Warehouse
Hart's Diesel Silver Series Marketing Partners:
Advanced Yield - Kawasaki Parts Warehouse
Champion Seed Western Series Marketing Partners:
Tuff Wireless - Sancrest Trailer Sales - Sancrest Specialized Transport - No Way Man Diesel - Northwoods Engineering
Ag Protect 1 Midwest Region Marketing Partners:
Wagler Motorsports - Freedom Racing Engines
---
Submitted By: Bryan Lively
Back to News