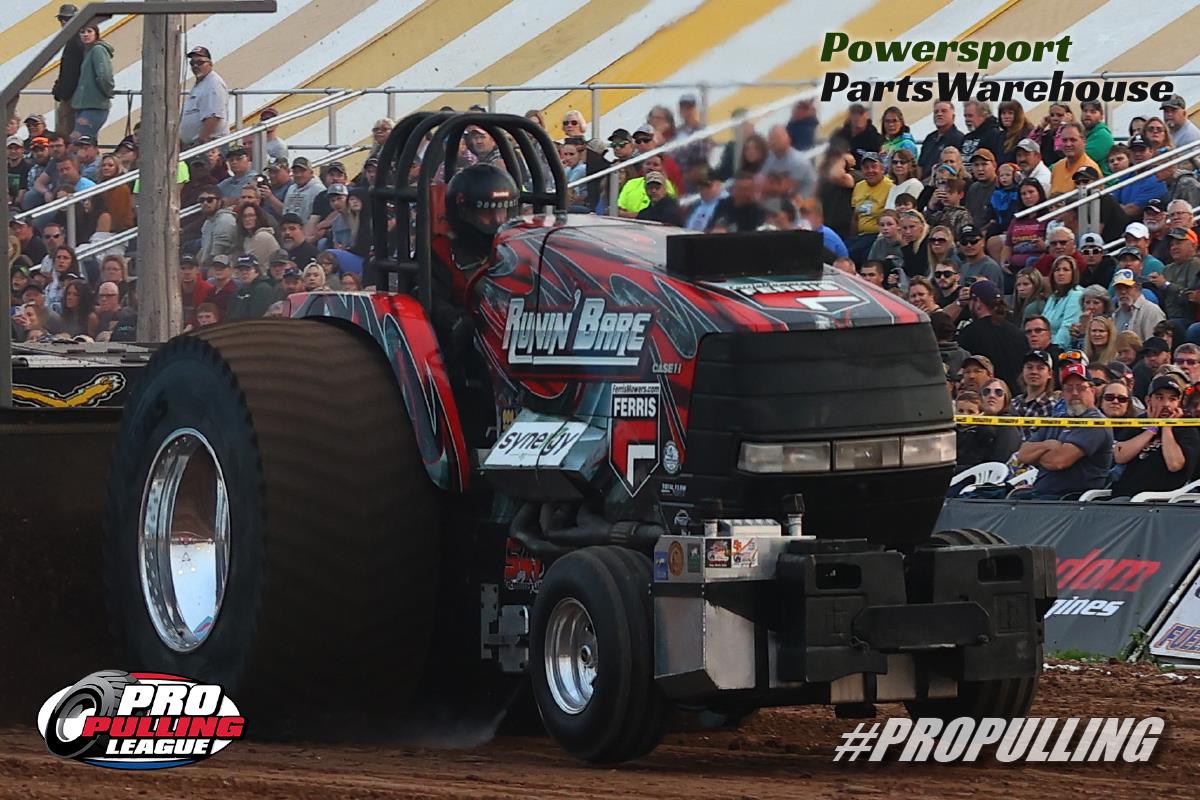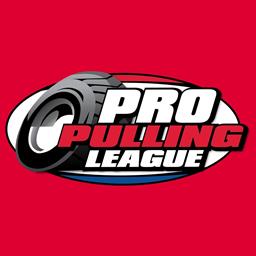 11/9/2023
Pro Pulling League
---
Let's Go For Two: Hirt Snags Unlimited Super Stock Tractor Title presented by Powersport Parts Warehouse
Sellersburg, IN (November 9th, 2023) – Winning one points championship in a season is a significant challenge, but 2023 saw Jeff Hirt break new ground for the Pro Pulling League, becoming the first competitor to win two Champions Tour titles in a single season.
Yesterday we covered Jeff's title run in the Mini Rod division. As intense of a battle as that was, his championship in Unlimited Super Stock Tractor presented by Powersport Parts Warehouse bore a new level of intrigue in determining a champion. It was a testament to the importance of every hook and no room for error.
At the end of the final session of competition at the Canfield Fair in Canfield, Ohio, Hirt and his "Runnin' Bare" CaseIH would be tied in points with Jeff Hothem who wheels the "Fully Loaded" John Deere. The points tiebreaker is the number of wins for the season; Hirt and Hothem tied there as well with two wins each. The tiebreaker would end up being total second-place points finishes, where Hirt had two second-place finishes versus one for Hothem. Following close behind Hirt and Hothem third in points was Aaron Hull and the "Taking Care of Business" John Deere.
Join us in congratulating Jeff Hirt on this points championship in 2023, to be highlighted at the Pro Pulling League Champions Tour Banquet on Saturday November 18th at the Hyatt Regency in Louisville, Kentucky.
About Powersport Parts Warehouse and Kawasaki Parts Warehouse
Powersport Parts Warehouse is a subsidiary of Holzhauer Pro Motorsports. With over 1,000 Powersports in stock and a network of dealerships to work with Holzhauers can find almost anything you are looking for and price it at that low Holzhauer Price. We are dedicated to the Customer Satisfaction you deserve on every deal!
Holzhauer Pro Motorsports is an authorized Can-Am®, Honda, Kawasaki, Sea-Doo®, SunChaser, Mahindra and Yamaha dealership. We carry a large selection of new and pre-owned inventory and have a full sales, service, and parts department with friendly and experienced staff ready to meet your needs! Visit our dealership in Nashville, near St. Louis, or call us Monday through Friday, 8AM to 6PM or Saturdays, 8AM to 5PM, for all your powersports needs! Come see what makes Holzhauer Pro Motorsports the best motorsports dealership serving Missouri, Illinois, and Kentucky!
We are proud to serve you and your family yesterday, today, and tomorrow with quality service and great products! Visit www.powersportpartswarehouse.com or wwwwww.kawasakipartswarehouse.com for more information!
About Pro Pulling League:
Now in its 18th season, the Pro Pulling League continues as the world's largest truck and tractor pulling sanctioning body, featuring 250+ sessions of competition across twenty states through the Champions Tour, Silver Series, Champion Seed Western Series, Ag Protect 1 Midwest Region and their member-states.
For the latest in news from the Pro Pulling League stay tuned here at www.propulling.com and follow us in social media: On our Facebook page, on Twitter (@propulling), and on Instagram (propullingleague). Our YouTube channel (@propullingleague) offers exciting truck and tractor pulling action from past events.
2023 Pro Pulling League Marketing Partners
Lucas Oil
Official Oil of the Pro Pulling League
ARP (Automotive Racing Products)
Official Fastener of the Pro Pulling League
MAC Trailer
Official Trailer of the Pro Pulling League
Coal Train Energy
Associate Sponsor of the Pro Pulling League
CM Pulling Tires
Official Tire Cutter of the Pro Pulling League
Fleece Performance
Associate Sponsor of the Pro Pulling League
Optima Batteries
Associate Sponsor of the Pro Pulling League
SCS Gearbox and Probell Racing
Associate Sponsor of the Pro Pulling League
Champions Tour Marketing Partners:
Summit Racing Equipment - Mitas Agricultural Tires - Fair Valley Performance Lemke Motorsports - FloRacing - Powersport Parts Warehouse
Hart's Diesel Silver Series Marketing Partners:
Advanced Yield - Kawasaki Parts Warehouse
Champion Seed Western Series Marketing Partners:
Tuff Wireless - Sancrest Trailer Sales - Sancrest Specialized Transport - No Way Man Diesel - Northwoods Engineering
Ag Protect 1 Midwest Region Marketing Partners:
Wagler Motorsports - Freedom Racing Engines
---
Submitted By: Bryan Lively
Back to News