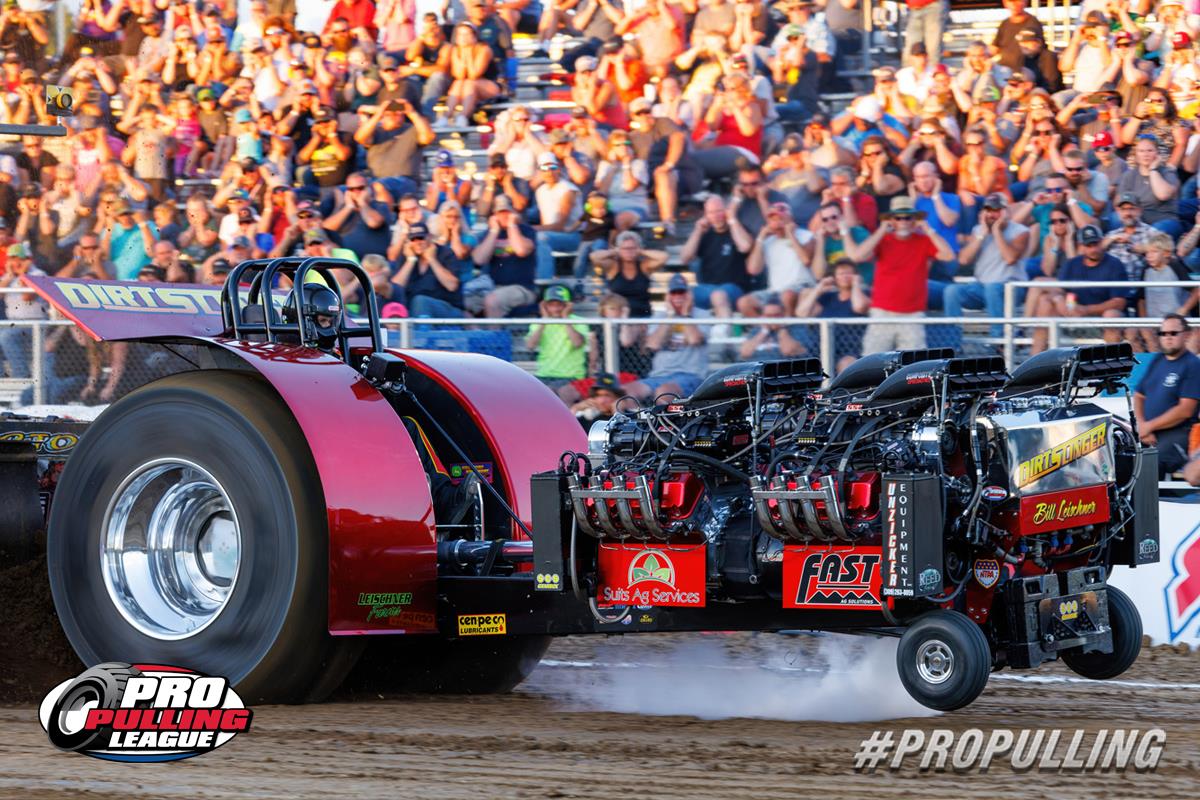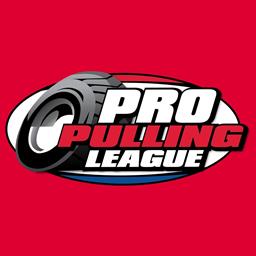 8/30/2023
Pro Pulling League
---
Canfield Fair Features Three Champions Tour Classes in Season-Ending Points Clashes
Charlestown, IN (August 30th, 2023) – Three classes from the Pro Pulling League's Champions Tour invade the grandstand tracks at the revered 177th edition of the Canfield Fair in Canfield, Ohio on Saturday, September 2nd. Each division will crown a points champion in this session of competition - with a unique opportunity available to one competitor.
Super Modified Tractors presented by Mitas Agricultural Tires, Unlimited Super Stock Tractors presented by Powersport Parts Warehouse, and Mini Rods presented by SCS Gearbox/Probell Racing will be in action in Canfield. The Dirtslinger Team holds the Super Modified Tractor points lead coming into this event, fourteen points ahead of Dylan Owens and the "Thorn" machine and Tom Owens and the "Ramblin Rose" in third. Jeff Hothem and the "Fully Loaded" Deere are in a tight battle with Jeff Hirt and the "Runnin' Bare" CaseIH for Unlimited Super Stock class with a pair of Hull Pulling Team machines (Craig Peterson and the "Out of Time" Deere and Aaron Hull and the "Taking Care of Business" Deere) within striking distance. The Mini Rod division has Hirt and his "Lil Bare" in the lead with Tyler Slagh ("Have No Mercy") and Bruce Slagh
("Show No Mercy") setting their sights on overtaking Hirt. Given his points standings in both classes, Hirt has the opportunity to win an unprecedented two Champions Tour points titles in a single year. Additionally, three USA East/Full Pull Productions classes will join the PPL classes on the twin tracks of Canfield.
Start time at Canfield is 7pm EDT; ticketing information for the pull is available at www.canfieldfair.com.
With the points implications at play in Canfield, be sure to join us Saturday night to watch the exciting action unfold from in person - and from the edge of your seat!
About Pro Pulling League:
Now in its 18th season, the Pro Pulling League continues as the world's largest truck and tractor pulling sanctioning body, featuring 250+ sessions of competition across twenty states through the Champions Tour, Silver Series, Champion Seed Western Series, Ag Protect 1 Midwest Region and their member-states. For the latest in news from the Pro Pulling League stay tuned here at www.propulling.com and follow us in social media: On our Facebook page, on Twitter (@propulling), and on Instagram (propullingleague). Our YouTube channel (@propullingleague) offers exciting truck and tractor pulling action from past events.
2023 Pro Pulling League Marketing Partners
Lucas Oil
Official Oil of the Pro Pulling League
ARP (Automotive Racing Products)
Official Fastener of the Pro Pulling League
MAC Trailer
Official Trailer of the Pro Pulling League
Coal Train Energy
Associate Sponsor of the Pro Pulling League
CM Pulling Tires
Official Tire Cutter of the Pro Pulling League
Fleece Performance
Associate Sponsor of the Pro Pulling League
Optima Batteries
Associate Sponsor of the Pro Pulling League
SCS Gearbox and Probell Racing
Associate Sponsor of the Pro Pulling League
Champions Tour Marketing Partners:
Summit Racing Equipment - Mitas Agricultural Tires - Fair Valley Performance Lemke Motorsports - FloRacing - Powersport Parts Warehouse
Hart's Diesel Silver Series Marketing Partners:
Advanced Yield - Kawasaki Parts Warehouse
Champion Seed Western Series Marketing Partners:
Tuff Wireless - Sancrest Trailer Sales - Sancrest Specialized Transport - No Way Man Diesel - Northwoods Engineering
Ag Protect 1 Midwest Region Marketing Partners:
Wagler Motorsports - Freedom Racing Engines
---
Submitted By: Bryan Lively
Back to News