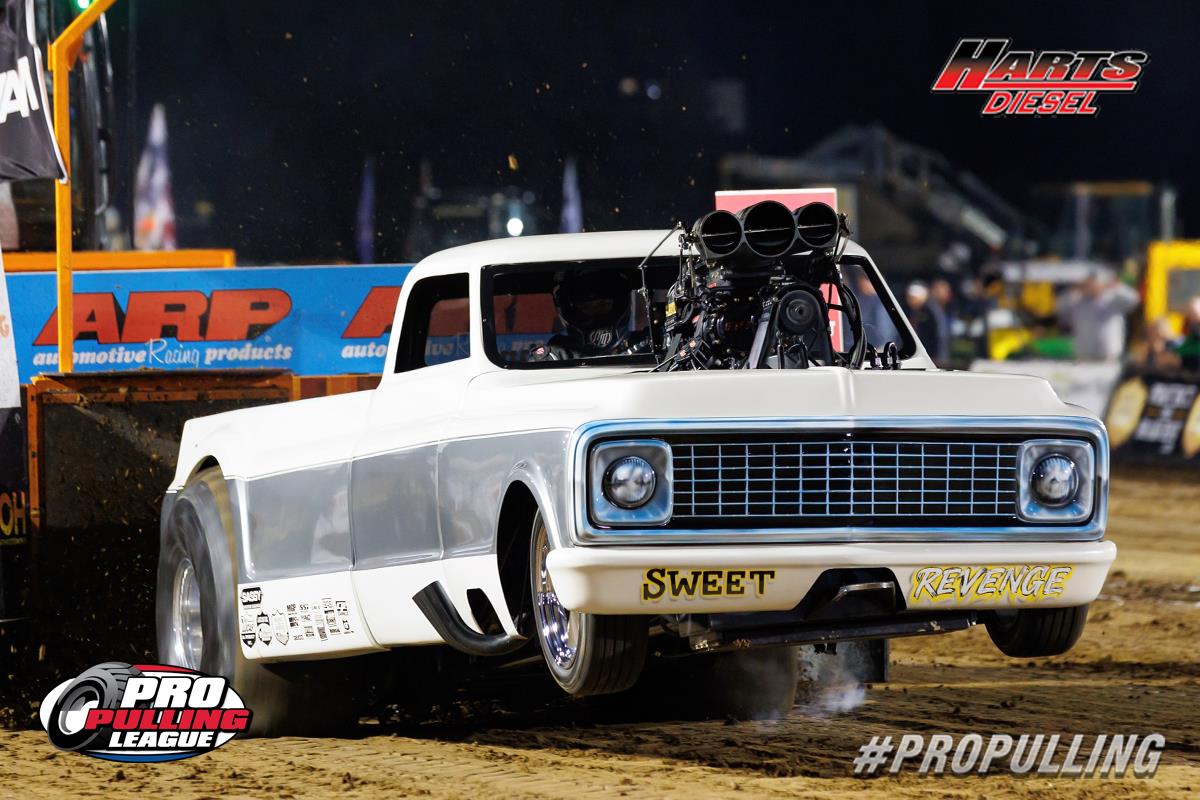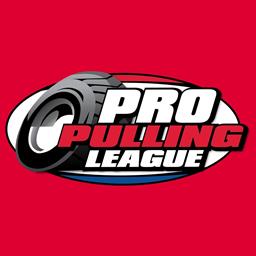 8/9/2023
Pro Pulling League
---
Hillsboro Charity Pull Takes Center Stage for Pullers and Fans This Weekend with FloRacing Coverage
Sellersburg, IN (August 9, 2023) – The scenic hills and valleys that surround Hillsboro Firemen's Park in Hillsboro, Wisconsin will roar to life with the sights and sounds of the Pro Pulling League this weekend at the Hillsboro Charity Pull for three sessions, starting Friday August 11th at 7pm CDT. Eight classes will take to the twin tracks, looking to be the victor in the "Battle for a Buckle" in each division. Two classes will also decide their points champions in the final session. Most importantly, proceeds from this exceptional event benefit community members in times of need.
That first session on Friday will feature Super Modified Tractors presented by Mitas, Pro Stock Tractors presented by Lemke Motorsports, Super Farm Tractors presented by Fair Valley Performance, Mini Rods presented by SCS Gearbox/Probell Racing, ARP Super Stock Diesel Trucks, and Super Modified Two Wheel Drive Trucks presented by Optima Batteries (limited to Champions Tour and Badger State Tractor Pullers members).
The second session on Saturday August 12 at Noon CDT sees the Mini Rods and Super Stock Diesel Trucks in their second appearance and declaring Buckle winners for the weekend, while ARP Lightweight Super Stock Tractors and Advanced Yield Light Pro Stock Tractors (contesting for Hart's Diesel Silver Series points) make their first weekend appearance.
The third and final session Saturday night at 6pm CDT offers the Super Modified Tractors, Pro Stock Tractors, Super Farm Tractors, and Light Pro Stocks, who all settle the score for a Buckle. The Lightweight Super Stock Tractors and Super Modified Two Wheel Drive Trucks have extra incentive to do well in the third session, as points champions will be decided in their final contests for 2023. Bobby Jones and the "Field Sobriety" CaseIH hold a commanding lead in LWSS, having won six out of seven possible events, with the duo of Martin Daniel and Daniel Northcutt ("On the Edge" and "Over the Edge" CaseIH machines) holding the second and third place spots. Bethany Nelson ("Sweet Revenge" Chevrolet) holds a slim lead in Super Modified Two Wheel Drive Truck action with Jason Sullivan ("Corn Burner" Dodge) and Jared Nelson ("Midnight Revenger" Chevrolet) in second and third place respectively - with a host of pullers also in the hunt to move up in points behind them.
Making plans to attend this awesome event? Visit www.CharityPull.com for more information and ticketing options. Fans can also take in the action from the evening sessions at FloRacing.com. In-person or from the comforts of home, don't miss one second of the Hillsboro Charity Pull!
Photo by www.JPPullingProductions.com
About Pro Pulling League:
Now in its 18th season, the Pro Pulling League continues as the world's largest truck and tractor pulling sanctioning body, featuring 250+ sessions of competition across twenty states through the Champions Tour, Silver Series, Champion Seed Western Series, Ag Protect 1 Midwest Region and their member-states. For the latest in news from the Pro Pulling League stay tuned here at www.propulling.com and follow us in social media: On our Facebook page, on Twitter (@propulling), and on Instagram (propullingleague). Our YouTube channel (@propullingleague) offers exciting truck and tractor pulling action from past events.
2023 Pro Pulling League Marketing Partners
Lucas Oil
Official Oil of the Pro Pulling League
ARP (Automotive Racing Products)
Official Fastener of the Pro Pulling League
MAC Trailer
Official Trailer of the Pro Pulling League
Coal Train Energy
Associate Sponsor of the Pro Pulling League
CM Pulling Tires
Official Tire Cutter of the Pro Pulling League
Fleece Performance
Associate Sponsor of the Pro Pulling League
Optima Batteries
Associate Sponsor of the Pro Pulling League
SCS Gearbox and Probell Racing
Associate Sponsor of the Pro Pulling League
Champions Tour Marketing Partners:
Summit Racing Equipment - Mitas Agricultural Tires - Fair Valley Performance Lemke Motorsports - FloRacing - Powersport Parts Warehouse
Hart's Diesel Silver Series Marketing Partners:
Advanced Yield - Kawasaki Parts Warehouse
Champion Seed Western Series Marketing Partners:
Tuff Wireless - Sancrest Trailer Sales - Sancrest Specialized Transport - No Way Man Diesel - Northwoods Engineering
Ag Protect 1 Midwest Region Marketing Partners:
Wagler Motorsports - Freedom Racing Engines
---
Submitted By: Bryan Lively
Back to News