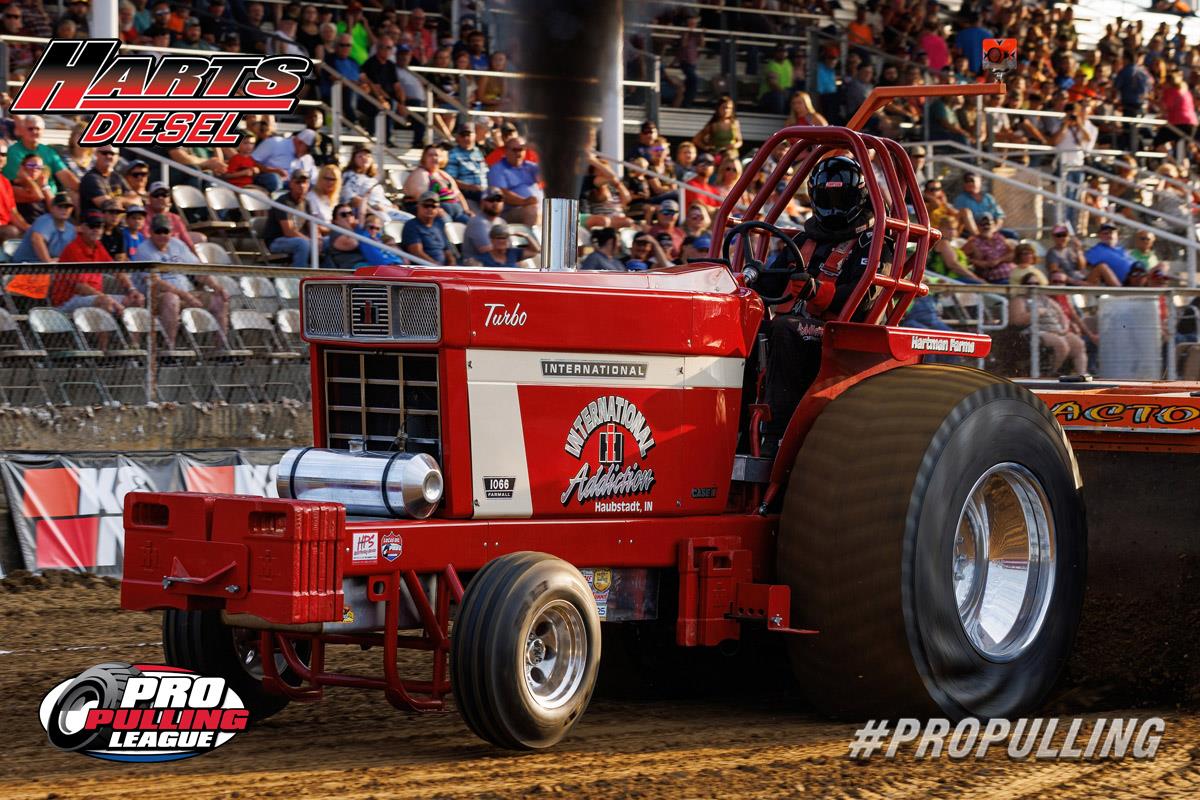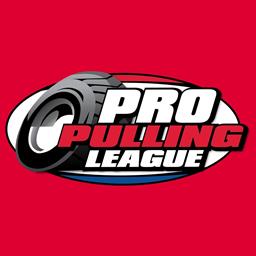 5/22/2023
Pro Pulling League
---
Spotlight Shines on Hart's Diesel Silver Series Pre-Commit Pullers
Sellersburg, IN (May 18, 2023) – Coming off a busy weekend at The Puller's Championship at the Track at Holzhauers and a return visit to that venue in Nashville, Illinois for the Southern Illinois Showdown presented by the Lutz Agency on June 2nd and 3rd, we highlight the Hart's Diesel Silver Series pre-commit pullers across three classes.
We lead off today's announcement with the Advanced Yield Light Pro Stocks. Mark and JD Wiederhold and their Bare Necessities John Deere return to defend their 2022 Points Title and seek a "three-peat" as they were class champions in 2021 as well. Fifteen other stout competitors aim to knock the Wiederholds off the top of the heap with a mix of new and returning names to the roster.
Those pre-commits include:
About Time Stephanie Faymoville Fox Lake, WI IH
All In Matthew & Charlie Cosler Wilmington, OH JD
Always $omethin Travis Tilton Bellville, OH IH
Bare Necessities Mark Wiederhold Clarksville, OH JD
Black Tornado Kyle Holland St Paul, IN JD
Busted Budget Matt Holland St Paul, IN JD
Case Incognito Brad Cochran Martinsville, OH IH
Demented Jeff Mikloiche Clifford Township, PA IH
Black N Blue Matt Smith Chambersburg,PA NH
Fast Forward Matt Smith Chambersburg,PA Ford
Ford 8700 Mark Smith Shippensburg, PA NH
Meredith's Agitator J. Howard Meredith Jr. & Jamie Hall Wye Mills, MD IH
Midnight Farmer Chris Mann Wapakoneta, OH JD
One Bad Binder Adam Luhnow Kewanna, IN IH
Red Light District Caleb Ogle Strasburg, IL Farmall
Too Relentless Jim Meadows Tollesboro, KY IH
In the Limited Pro Stock Tractor division the International Addiction IH of the Hartman family has been the tractor to beat over the past three seasons. Andrew Hartman is set to wheel that potent 66-series machine from Haubstadt, Indiana this season but will face a massive challenge from twenty-one other teams trying to make a championship run as well.
The pre-commits to the Limited Pro Stock class are:
2 Ruthless Dustin Ruth & Breanna Burns Downing, MO IH
618 Motorsports 4.1 Brett Hackstadt Nashville, IL IH
Change Maker Jerry Barrass Marion, IL IH
Color Blind Ken & Sydnee Summers Buckner, MO JD
Family Feud Randy Stuckenschneider Martinsburg, MO IH
For A Few Dollars More Mark Wells Sturgis, KY JD
Full Boar Darin Ratermann Bartelso, IL IH
G-Force Michael Gerlach & Cory Neff Stockton, IL IH
Goliath Jarrod Wortmann Montgomery City, MO IH
Hickory Hooker Adrian Cox Trenton, MO IH
High Maintenance Bill Smith Darlington, WI JD
International Addiction Andrew Hartman Haubstadt, IN IH
Irrational Behavior Travis Wisel Roanoke, IN IH
Limited Edition Mike Bousema Worthington, MN JD
Meier R&D John Meier Brodhead, WI IH
Runnin In The Red Tom & Nick Gallitz Jefferson, WI IH
Runnin Red Hot Kathy Gallitz & Al Wright Jefferson, WI IH
Ruthless Binder Doug Ruth & Chandler Burns Downing, MO IH
She Gone 4.1 Brent Schorfheide Hoyleton, IL IH
Shoot to Thrill Chad Russell Table Grove, IL JD
Special Edition Steve Bousema Worthington, MN JD
Time 4.1 More Josh & Jacob Dutton Darien, WI IH
Pro Stock Diesel Trucks continue to be an important part of the Hart's Diesel Silver Series with another stellar group of pullers set to attack the track for 2023. Matt Penn and the Penn Farms Dodge look to add another points title to his collection but faces a battle with thirteen other pullers, including 2021 champ Brady Ingram and the Scheid Diesel machine.
The Pro Stock Diesel roster includes:
Can't Holder John Holder Rio, WI
Chapter 11 Norman Newswanger Newville, PA Ford
Cumminatcha Ben Braunecker Stendal, IN Dodge
Diggin Deep Dustin Beheler Fredericktown, OH Dodge
Interstate Diesel Scott Willoughby Winchester, KY Dodge
Jumping Jack Flash Nathan Vegh Shelbyville, KY Ford
Off The Rails Jake Thompson Waterman, IL
Penn Farms Matt Penn Edina, MO Dodge
Relentless Joe Wiltse Maple Park, IL Ford
Rock Diesel Ben Schimpf Eagle, WI
Scheid Diesel Brady Ingram Farina, IL Dodge
Sound of Madness Stoney Hargett Bells, TN Dodge
Thinker "N" Blood Josh Stahl & Chris Lemke Sandwich, IL Dodge
Dave Stahl & Troy Rittschof Sandwich, IL
Watch for Hart's Diesel Silver Series classes to be contested across the midwest in conjunction with the Champions Tour, Champion Seed Western Series, and Ag Protect 1 Midwest Region!
About Hart's Diesel:
From their website, www.HartsDiesel.com : "Established in 1996, we have over four decades of experience in the pulling and agricultural industry. We are committed to our customers and strive to make you thrilled with our diesel performance parts and repair and maintenance services. Our reputation and strong relationships with the top tractor and truck pulling teams in the industry prove satisfaction among our customers. Our diesel performance parts include turbo chargers, fuel injection pumps, and injectors for our pullers, performance gurus, and farmers. We also offer services for repair and rebuilds on performance and agricultural parts along with all the extra accessories you may need."
About Advanced Yield:
Cory Atley, who farms around 8,000 acres of leased and family ground in Greene County Ohio, is known by many for his high yields and appearance in the reality show "Corn Warriors." In addition to farming, he and his team at Advanced Yield work with dozens of farmers from Maryland to Kansas to coax more bushels from the ground every year.
Atley and his team at Advanced Yield have won the National Corn Growers Association (NCGA) yield contest for Ohio each of the past six years. His most recent winning yield was 366 bushel per acre. "We don't do special plots for the contest," says Atley. "We farm for averages every year and just take a normal swipe through the field, there is no special plot for the contest." They also have been 6-time winners for best yield of soybeans, with yields often 120-plus bushel per acre.
Cory Atley is a
*1x National overall winner in NCGA corn with 366bpa
*6x Ohio Winner NCGA
*1x Corn King on reality show "Corn Warriors"
*State Record Holder for Corn
*6x National winner for Soybeans
*3x Winner on reality show "PodFathers"
*State Record Holder for Beans
Visit www.AdvancedYield.com or their Facebook page (Advanced Yield LLC) to learn more about their products and services!
About Pro Pulling League:
Now in its 18th season, the Pro Pulling League continues as the world's largest truck and tractor pulling sanctioning body, featuring 250+ sessions of competition across twenty states through the Champions Tour, Silver Series, Champion Seed Western Series, Ag Protect 1 Midwest Region and their member-states. For the latest in news from the Pro Pulling League stay tuned here at www.propulling.com and follow us in social media: On our Facebook page, on Twitter (@propulling), and on Instagram (propullingleague). Our YouTube channel (@propullingleague) offers exciting truck and tractor pulling action from past events.
2023 Pro Pulling League Marketing Partners
Lucas Oil
Official Oil of the Pro Pulling League
ARP (Automotive Racing Products)
Official Fastener of the Pro Pulling League
MAC Trailer
Official Trailer of the Pro Pulling League
Fleece Performance
Associate Sponsor of the Pro Pulling League
Optima Batteries
Associate Sponsor of the Pro Pulling League
SCS Gearbox and Probell Racing
Associate Sponsor of the Pro Pulling League
Champions Tour Marketing Partners:
Summit Racing Equipment - Mitas Agricultural Tires - Fair Valley Performance Lemke Motorsports - FloRacing
Hart's Diesel Silver Series Marketing Partners:
Advanced Yield
Champion Seed Western Series Marketing Partners:
Tuff Wireless - Sancrest Trailer Sales - Sancrest Specialized Transport - No Way Man Diesel - Northwoods Engineering
Ag Protect 1 Midwest Region Marketing Partners:
Wagler Motorsports - Freedom Racing Engines
---
Submitted By: Bryan Lively
Back to News