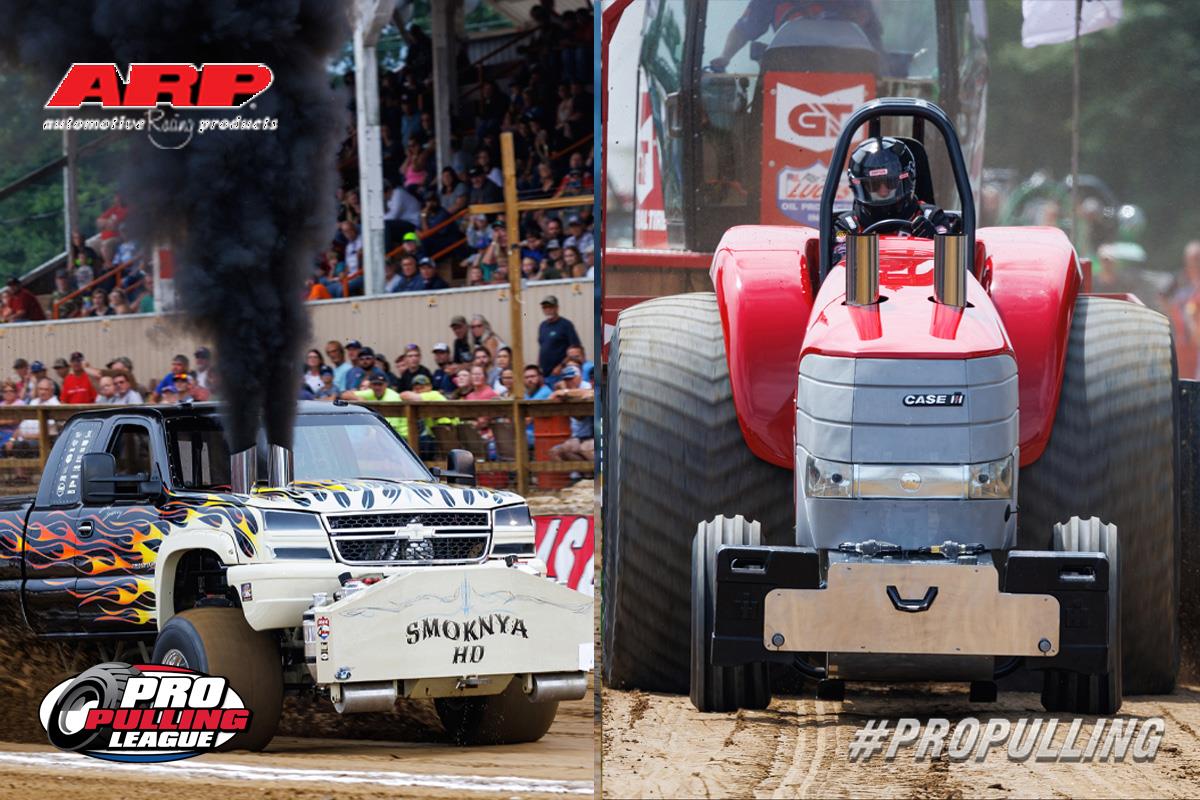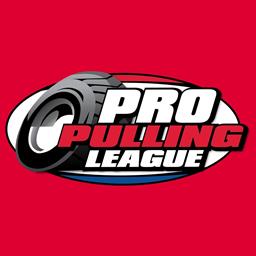 5/16/2023
Pro Pulling League
---
Pre-Commits for ARP Super Stock Diesel Trucks and ARP Lightweight Super Stock Tractors Revealed
Sellersburg, IN (May 16, 2023) – The spotlight shines on two more classes competing on the Champions Tour of the Pro Pulling League today, as the pre-committed pullers of the ARP Super Stock Diesel Truck and ARP Lightweight Super Stock Tractor divisions are revealed.
Erik and Lily Stacey are set to bring the defending 2021 and 2022 ARP Super Stock Diesel Truck points champion machine, the Smokinya HD Chevrolet, back to Champions Tour action this season seeking a three-peat for the team hailing from Winchester, Ohio. The 2023 championship bid will not be without challenges as a gang of heavy-hitting competitors seek to claim the title as their own.
Joining the Staceys as Pre-commits are:
American Pride Keith Witt Warrenton, MO Dodge
Caretaker Chase Eller Lafayette, TN Dodge
Cream of the Crop Justin Gearhart Circleville, OH Dodge
Cross Wired Keith Witt Warrenton, MO Dodge
Dead Pull Terry Biggs Noblesville, IN Ford
Rock Hard Ram Van Haisley Fairmount, IN Dodge
Scheid Diesel Kent Crowder Attica, IN Dodge
The Nut Job Brion Whithrow Albany, OH
One Nation Carl Butler Avondale, PA Dodge
Thirteen elite machines headline the ARP Lightweight Super Stock Tractor pre-commit list. This high-flying class will make their presence known at several events this season with a notable amount of brand variety displayed in the ranks.
The Lightweight Super Stock Tractor pre-commits include:
Alter Ego Bryan Bowles Mt Vernon, MO New Holland
Blue Blazes Mike Wilhite Cox's Creek, KY New Holland
Crazy Canuck Patrice Beaudry Granby, QC Canada Claas
Eatn' Dollars Alky Edition David Esteb Franklin, IN JD 4010
Extremely Insane Larry Phillips Vine Grove, KY IH
Field Sobriety Bobby Jones Pleasant Hill, IL IH
Hy Strung Brice & Tayton Terry Gallatin, MO D21
JD Cody Haney Athens, AL JD
Loud & Light Brandon Phillips Vine Grove, KY JD
Monkey Mayhem Uncaged Todd Maedge Marine, IL IH
On the Edge Martin Daniel & Daniel Northcutt Bradyville, TN IH
Over The Edge Martin Daniel & Daniel Northcutt Bradyville, TN IH
Tennessee Tracks Jacob Fuqua Springfield, TN IH
Visit the events page here at www.propulling.com to see where you can watch the thrilling action from these classes at an event near you!
About ARP:
Automotive Racing Products offers over 5000 fastener kits manufactured to exactingly high standards at facilities across Southern California. Their website, www.ARP-Bolts.com, provides volumes of product and technical information while their catalog is available in print or digital form at www.ARPCatalog.com.
About Pro Pulling League:
Now in its 18th season, the Pro Pulling League continues as the world's largest truck and tractor pulling sanctioning body, featuring 250+ sessions of competition across twenty states through the Champions Tour, Silver Series, Champion Seed Western Series, Ag Protect 1 Midwest Region and their member-states. For the latest in news from the Pro Pulling League stay tuned here at www.propulling.com and follow us in social media: On our Facebook page, on Twitter (@propulling), and on Instagram (propullingleague). Our YouTube channel (@propullingleague) offers exciting truck and tractor pulling action from past events.
2023 Pro Pulling League Marketing Partners
Lucas Oil
Official Oil of the Pro Pulling League
ARP (Automotive Racing Products)
Official Fastener of the Pro Pulling League
MAC Trailer
Official Trailer of the Pro Pulling League
Fleece Performance
Associate Sponsor of the Pro Pulling League
Optima Batteries
Associate Sponsor of the Pro Pulling League
SCS Gearbox
Associate Sponsor of the Pro Pulling League
Champions Tour Marketing Partners:
Summit Racing Equipment - Mitas Agricultural Tires - Fair Valley Performance Lemke Motorsports - FloRacing
Hart's Diesel Silver Series Marketing Partners:
Advanced Yield
Champion Seed Western Series Marketing Partners:
Tuff Wireless - Sancrest Trailer Sales - Sancrest Specialized Transport - No Way Man Diesel - Northwoods Engineering
Ag Protect 1 Midwest Region Marketing Partners:
Wagler Motorsports - Freedom Racing Engines
---
Submitted By: Bryan Lively
Back to News