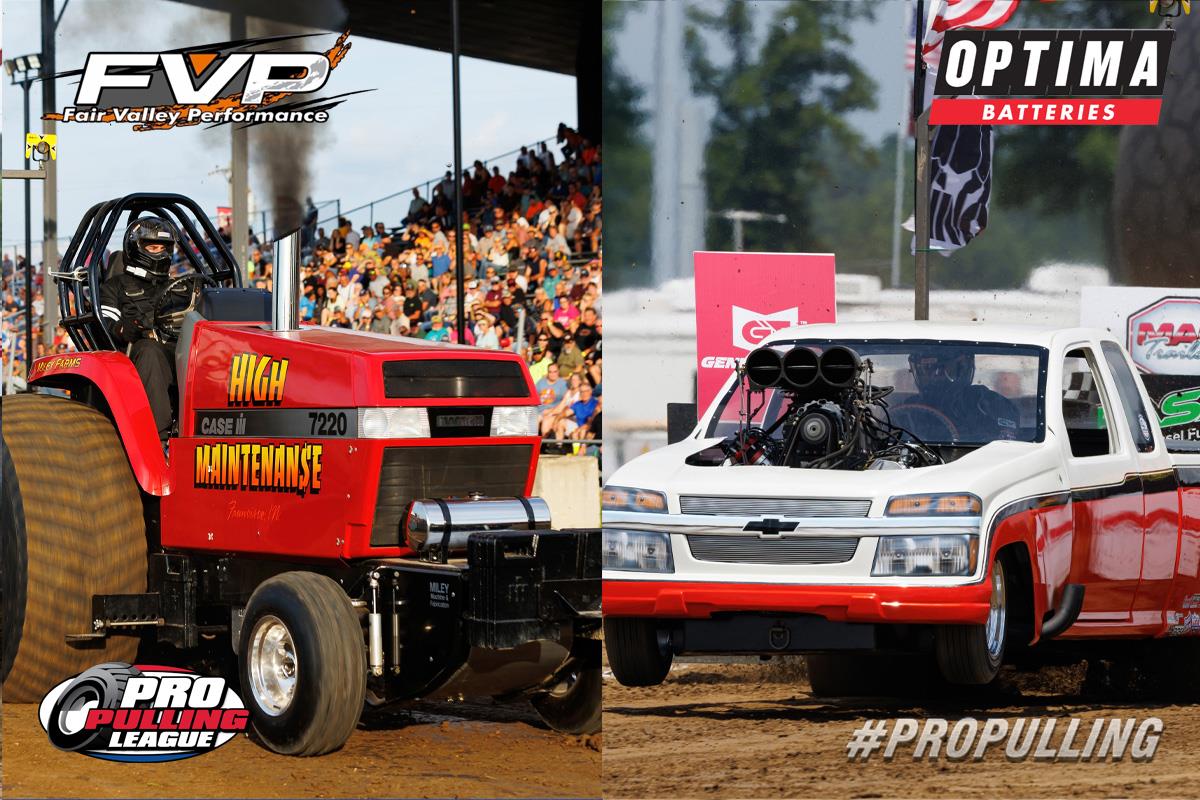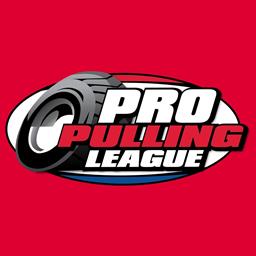 5/11/2023
Pro Pulling League
---
UPDATED 5/16 - Pre-Commit Competitors for Super Farm Tractors Presented by FVP and Super Mod. TWD Trucks Presented by Optima Batteries Announced
5/16/23 SMTWD List Updated
Sellersburg, IN (May 11, 2023) – The Pro Pulling League continues the reveal of pre-committed competitors, with two more classes presented today set to entertain fans on the 2023 Champions Tour.
The Super Farm Tractors presented by Fair Valley Performance (FVP) are headed up by defending class champion Josh Miley and the High Maintenan$e CaseIH from Francisco, Indiana. In a game of inches the Super Farms are among the most competitive in the entire sport, with all thirteen entries capable of getting the win. Beyond the defending champ Miley, the list includes:
44 Keith Hannenburg & Michael Snepp Coopersville, MI JD
Crank It Up Dan & Don Viney Cottage Grove, WI IH
Dime A Dozen Jerry Barrass & Doug Babb Marion, IL IH
Fast & Furious Don, James & Tori Slama Hillsboro, WI JD
Hooked Up Brian Barman Middleton, WI IH
Never Say Never Bret Weber Fort Branch, IN IH
Positive Ground Chuck Guenterberg Rio, WI IH
Running Buck Wild Andy & Shawn Schwenk Jasper, IN JD
Screamin Norwegian Skaar, Boyd & Johnson Cottage Grove, WI IH
Thumpin Pumpkin Shane Masten Niles, MI Agco
Twisted Deere Casey & Corey Fritz Boscobel, WI JD
Wicked Whitetail Jeremy Roberts Sullivan, IN JD
Michael White and the Addiction Chevy from Lafayette, Tennessee covered all the bases in the Super Modified Two Wheel Drive Truck class presented by Optima Batteries in 2022. White looks to repeat in 2023 but faces an uphill battle against some of the sports elite two-wheeler competitors. The roster of pullers looking to knock White off the top of the class includes:
2 Timin' Chad Mayhill Reynolds, IN Chevy
After Midnight Misty Nelson Sidney, IL Chevy SSR
Cornburner Jason Sullivan Edgewood, IA Dodge
Full Throttle Lisa Tatum Bardstown, KY Chevy S-10
Hi Maintenance Tony Fleming Lamont, IA Chevy
In 2 Deep Chaz Fleming Lamont, IA Chevy
Invisalign Tim Messer Memphis, TN Ford Ranger
Midnight Gambler Jeremy Nelson Sidney, IL Dodge Panel Van
Midnight Revenger Jared Nelson Altamont, IL Chevy
P5 Jessie Petro Camden, OH Chevy
Parts City Auto Parts Tony Tatum Bardstown, KY Chevy S-10
Playin' Dirty Tracen Baggett Adams, TN Chevy
Playin' Hooky Evan Anderson Adams, TN Chevy
Razor's Edge Luke Hubert & Mike McCurdy Bowling Green, MO Chevy
Salt Shaker Jamie Austin Charleston, IL Ford
Sawmill Express Tim Beaty Jamestown, TN Chevy
Sweet Revenge Bethany Nelson Altamont, IL Chevy
Willy Makit Bobbie Barbee Springfield, TN Willy's
Donnie Sullivan Warsaw, KY Chevy
Stimulus Package Jansen Smith Dry Ridge, KY Dodge
Visit the events page here at www.propulling.com to see where you can watch the thrilling action from these classes at an event near you!
About Fair Valley Performance:
Fair Valley Performance (FVP)was established in 2001 marketing and selling data acquisition systems to the pulling industry. Dennis Frey had been working in the diesel fuel injection industry since 1991, and in 2007, founded and started the diesel fuel injection and turbocharger side of FVP, building and servicing diesel fuel injection pumps, injection lines, injectors, and turbochargers. Although no longer involved with the data acquisition business, much emphasis has gone into offering fuel supply and water injection systems as well. To enhance the fuel and air side of the business, in 2021, FVP acquired the Columbus Diesel Motorsports division which included the parts inventory, tooling, and test equipment. Also in 2021, FVP acquired Midwest Machining which included CNC and EDM machining equipment along with the owner's expertise. Since then, FVP continues to emphasize more on and grow the pulling diesel performance side of the business, now servicing the pulling industry throughout the U.S., Canada, Europe, and Australia. Dennis, Jenny, and Ridge Frey, along with the rest of the FVP team, look forward to growing with and servicing the diesel pulling industry. Log on to www.fvpdiesel.com for information on their extensive line of products and services.
About Optima Batteries:
With a 40-year history of technological innovation and engineering, OPTIMA® products offer unstoppable power for extreme enthusiasts and others who require THE ULTIMATE POWER SOURCE. In the 1970s, OPTIMA Batteries introduced the first maintenance-free lead acid batteries for commercial and military use and the first high-performance AGM automotive batteries. OPTIMA innovation didn't stop there.
OPTIMA revolutionized the industry with the introduction of its unique SPIRALCELL TECHNOLOGY® as well as developing its first digital battery charger and maintainer. In 2017, OPTIMA added even more sizes to its product line with the introduction of two DIN fitments (H6 & H7). These new DIN sizes bring the best-in-class material purity enthusiasts expect from OPTIMA Batteries to flat-plate AGM construction.
Look for the distinctive OPTIMA SIX PACK™ shape to get THE ULTIMATE POWER SOURCE every day, everywhere. Visit www.optimabatteries.com for more information on their product lines to fit your battery needs.
About Pro Pulling League:
Now in its 18th season, the Pro Pulling League continues as the world's largest truck and tractor pulling sanctioning body, featuring 250+ sessions of competition across twenty states through the Champions Tour, Silver Series, Champion Seed Western Series, Ag Protect 1 Midwest Region and their member-states. For the latest in news from the Pro Pulling League stay tuned here at www.propulling.com and follow us in social media: On our Facebook page, on Twitter (@propulling), and on Instagram (propullingleague). Our YouTube channel (@propullingleague) offers exciting truck and tractor pulling action from past events.
2023 Pro Pulling League Marketing Partners
Lucas Oil
Official Oil of the Pro Pulling League
ARP (Automotive Racing Products)
Official Fastener of the Pro Pulling League
MAC Trailer
Official Trailer of the Pro Pulling League
Fleece Performance
Associate Sponsor of the Pro Pulling League
Optima Batteries
Associate Sponsor of the Pro Pulling League
Champions Tour Marketing Partners:
Summit Racing Equipment - Mitas Agricultural Tires - Fair Valley Performance Lemke Motorsports - FloRacing
Hart's Diesel Silver Series Marketing Partners:
Advanced Yield
Champion Seed Western Series Marketing Partners:
Tuff Wireless - Sancrest Trailer Sales - Sancrest Specialized Transport - No Way Man Diesel - Northwoods Engineering
Ag Protect 1 Midwest Region Marketing Partners:
Wagler Motorsports - Freedom Racing Engines
---
Submitted By: Bryan Lively
Back to News