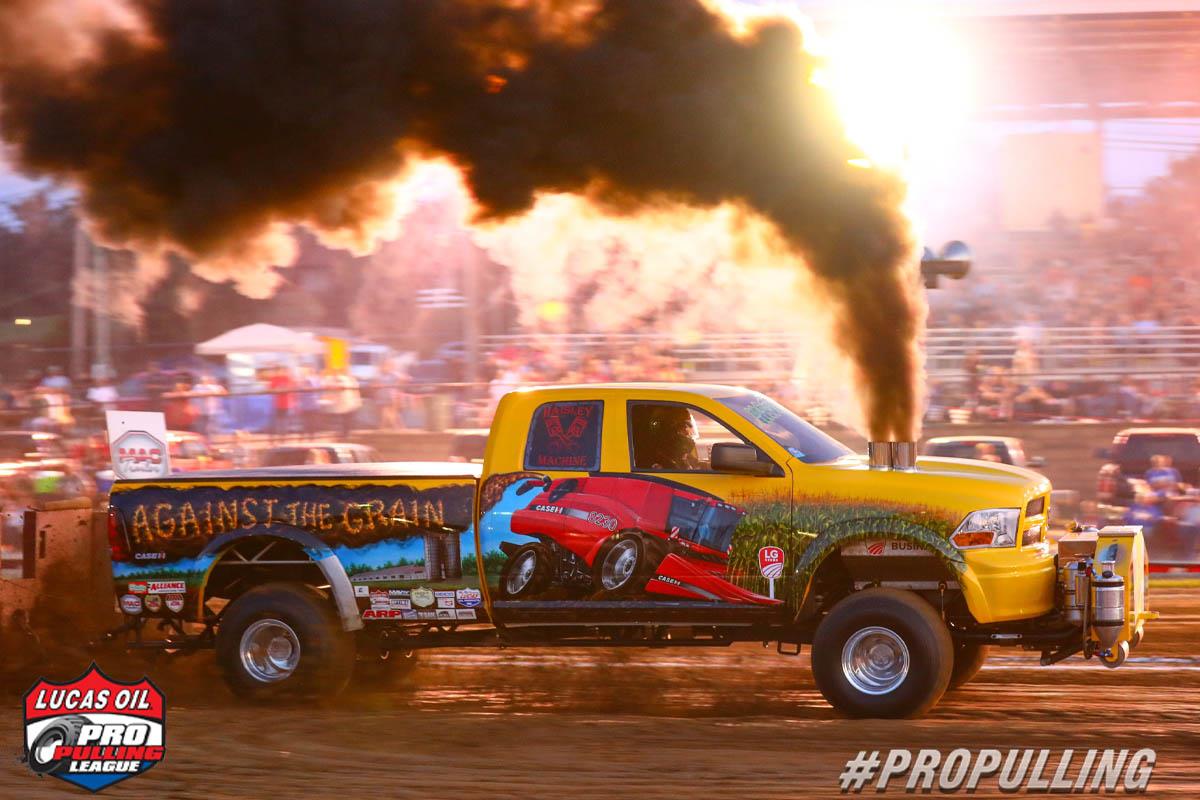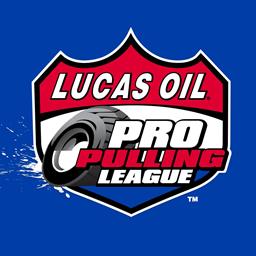 9/15/2022
Lucas Oil Pro Pulling
---
Lucas Oil Mega Pull Features Trio of Champions Tour Classes This Weekend
Charlestown, IN (September 15, 2022) – The Greene County Fairgrounds in Waynesburg, Pennsylvania is the next-to-last stop for the 2022 Lucas Oil Pro Pulling League Champions Tour. Three classes of elite competitors are set to battle in Waynesburg, making a last-second push to the top of their respective divisions.
ARP Super Stock Diesel Trucks, Pro Modified Four Wheel Drive Trucks, and Unlimited Super Stock Tractors are set to appear at the Mega Pull. Erik Stacey and the SmokinYa HD Chevy holds a tenuous lead over Cody Hastings (Against the Grain Dodge) and Chase Eller (Caretaker Dodge) who are tied for second place in Super Stock Diesel Truck points coming into Waynesburg. The Pro Mod Four Wheel Drive division title is also unsettled with Jim Bosch and the Midnight Raider Chevy facing a similar situation to Stacey, as Steve Clem (Ratical Chevy) and Charlie Hinds (Runnin Wild Ford) are within striking distance in one of the most competitive classes in the sport. The Unlimited Super Stock Tractor class offers Josh Blackbourn and the Considered Armed and Dangerous-HD CaseIH holding a comfortable 60 point lead on Jeff Hirt and the Runnin Bare CaseIH, with Bob Gansemer and the Ruttin Deere 1 ten points behind Hirt.
The thrilling action begins at 7pm EDT on Saturday September 17th in Waynesburg with gates opening at 4pm. The event's website, www.greencountyfair.org/mega-pull has more information about ticketing options for attendees.
Join us Saturday night in Waynesburg for a clash of championship contenders at the Lucas Oil Mega Pull!
For the latest in news from the Lucas Oil Pro Pulling League stay tuned here at www.propulling.com and follow us in social media at our Facebook page, on Twitter (@propulling) and on Instagram (propullingleague). See us in print media with our Pro Pulling Magazine, published bi-monthly and covering the wide range of Lucas Oil Pro Pulling League National and Regional events as well as our Member-States. Get your subscription to Pro Pulling Magazine at www.hookmagazine.com/propulling.html
Lucas Oil Products is the world leader in high-performance lubricants and problem-solving additives, and distributes hundreds of unique formulations in 40 countries, with continued growth every year. Its television production arm, Lucas Oil Production Studios, manages high-def facilities that create more than 300 hours of programming for the Lucas-owned MAVTV Motorsports Network, and MAVTV-produced programming via www.FloRacing.com , accessible on all popular handheld devices, smartphones and computers.
---
2022 Official Team Lucas Pro Pulling League Marketing Partners
ARP (Automotive Racing Products)
"Official Fastener" of the Lucas Oil Pro Pulling League
Arizona Sport Shirts
"Official Merchandise Provider" of the Lucas Oil Pro Pulling League
Big River Steel
"Official Sponsor" of the Lucas Oil Pro Pulling League
General Tire
"Official Tire" Lucas Oil Pro Pulling League
Lucas Oil Products
"Official Oil" of the Lucas Oil Pro Pulling League
MAC Trailer
"Official Trailer" of the Lucas Oil Pro Pulling League
MAVTV Motorsports Network
"Official Television Network" of the Lucas Oil Pro Pulling League
OPTIMA Batteries
"Official Battery" of the Lucas Oil Pro Pulling League
ProtectTheHarvest.com
"Official Sponsor" of the Lucas Oil Pro Pulling League
RhinoAg
"Official Sponsor" of the Lucas Oil Pro Pulling League
Summit Racing
"Official Sponsor" of the Lucas Oil Pro Pulling League
SuperClean
"Official Sponsor" of the Lucas Oil Pro Pulling League
UNOH
"Official Educational Partner" of the Lucas Oil Pro Pulling League
2022 Lucas Oil Pro Pulling League Supporters Include:
Ag Protect 1, Brown and Miller Racing Solutions, Champion Seed, Scheid Diesel, and Thermo-Tec
---
Submitted By: Bryan Lively
Back to News