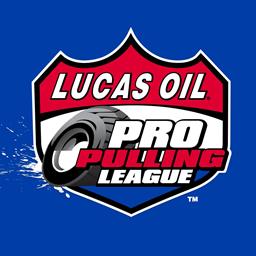 9/6/2022
Lucas Oil Pro Pulling
---
Packed House at 176th Canfield Fair Witness Big Wins by Ross and Walsh
Charlestown, IN (September 6th, 2022) – The 176th Canfield Fair in Canfield, Ohio once again delivered a packed house of pulling fans on Saturday, September 3rd. With a compliment of Full Pull Productions/USA East classes on hand, two Champions Tour classes from the Lucas Oil Pro Pulling League were set to offer big excitement.
The Unlimited Super Stock division featured seven stout entries. After a sled reset, points leader Josh Blackbourn and the Considered Armed and Dangerous HD CaseIH laid down an opening pass to 318.33 and quickly followed that with a pass on the Extremely Armed and Dangerous CaseIH to 320.06. Colin Ross would immediately follow up Blackbourn's second run with a blast to 337.79 on the Triple Bypass McCormick, taking the win and notching a victory for Team Diesel in the ongoing Diesel vs. Alky - Duel of the Fuels.
Big River Steel Super Modified Tractors also featured seven entries. Tom Owens and the Ramblin Rose triple-engine machine was the early leader but saw the lead vanish with a potent run by Dave Walsh on the Irish Challenger 2.0. Walsh would then surpass that run with a blazing pass on the 4 Aces turbine-powered machine shortly thereafter and held on for the win. It was first win for a turbine-powered machine in Champions Tour competition since 2016, when Ron Barga II won on the Judge machine at the Hillsboro Charity Pull. Not only did Walsh finish 1-2, it was also Walsh's first national mod win since an event in St. Hyacinthe, Quebec in 1998.
Unlimited Super Stocks continue their season at the Lucas Oil Mega Pull in Waynesburg, Pennsylvania on September 17th and Big River Steel Super Modifieds will close out their season at the Lucas Oil Pro Pulling League Nationals at Lucas Oil Speedway on September 24th.
For the latest in news from the Lucas Oil Pro Pulling League stay tuned here at www.propulling.com and follow us in social media at our Facebook page, on Twitter (@propulling) and on Instagram (propullingleague). See us in print media with our Pro Pulling Magazine, published bi-monthly and covering the wide range of Lucas Oil Pro Pulling League National and Regional events as well as our Member-States. Get your subscription to Pro Pulling Magazine at www.hookmagazine.com/propulling.html
Lucas Oil Products is the world leader in high-performance lubricants and problem-solving additives, and distributes hundreds of unique formulations in 40 countries, with continued growth every year. Its television production arm, Lucas Oil Production Studios, manages high-def facilities that create more than 300 hours of programming for the Lucas-owned MAVTV Motorsports Network, and MAVTV-produced programming via www.FloRacing.com , accessible on all popular handheld devices, smartphones and computers.
---
2022 Official Team Lucas Pro Pulling League Marketing Partners
ARP (Automotive Racing Products)
"Official Fastener" of the Lucas Oil Pro Pulling League
Arizona Sport Shirts
"Official Merchandise Provider" of the Lucas Oil Pro Pulling League
Big River Steel
"Official Sponsor" of the Lucas Oil Pro Pulling League
General Tire
"Official Tire" Lucas Oil Pro Pulling League
Lucas Oil Products
"Official Oil" of the Lucas Oil Pro Pulling League
MAC Trailer
"Official Trailer" of the Lucas Oil Pro Pulling League
MAVTV Motorsports Network
"Official Television Network" of the Lucas Oil Pro Pulling League
OPTIMA Batteries
"Official Battery" of the Lucas Oil Pro Pulling League
ProtectTheHarvest.com
"Official Sponsor" of the Lucas Oil Pro Pulling League
RhinoAg
"Official Sponsor" of the Lucas Oil Pro Pulling League
Summit Racing
"Official Sponsor" of the Lucas Oil Pro Pulling League
SuperClean
"Official Sponsor" of the Lucas Oil Pro Pulling League
UNOH
"Official Educational Partner" of the Lucas Oil Pro Pulling League
2022 Lucas Oil Pro Pulling League Supporters Include:
Ag Protect 1, Brown and Miller Racing Solutions, Champion Seed, Scheid Diesel, and Thermo-Tec
---
Submitted By: Bryan Lively
Back to News