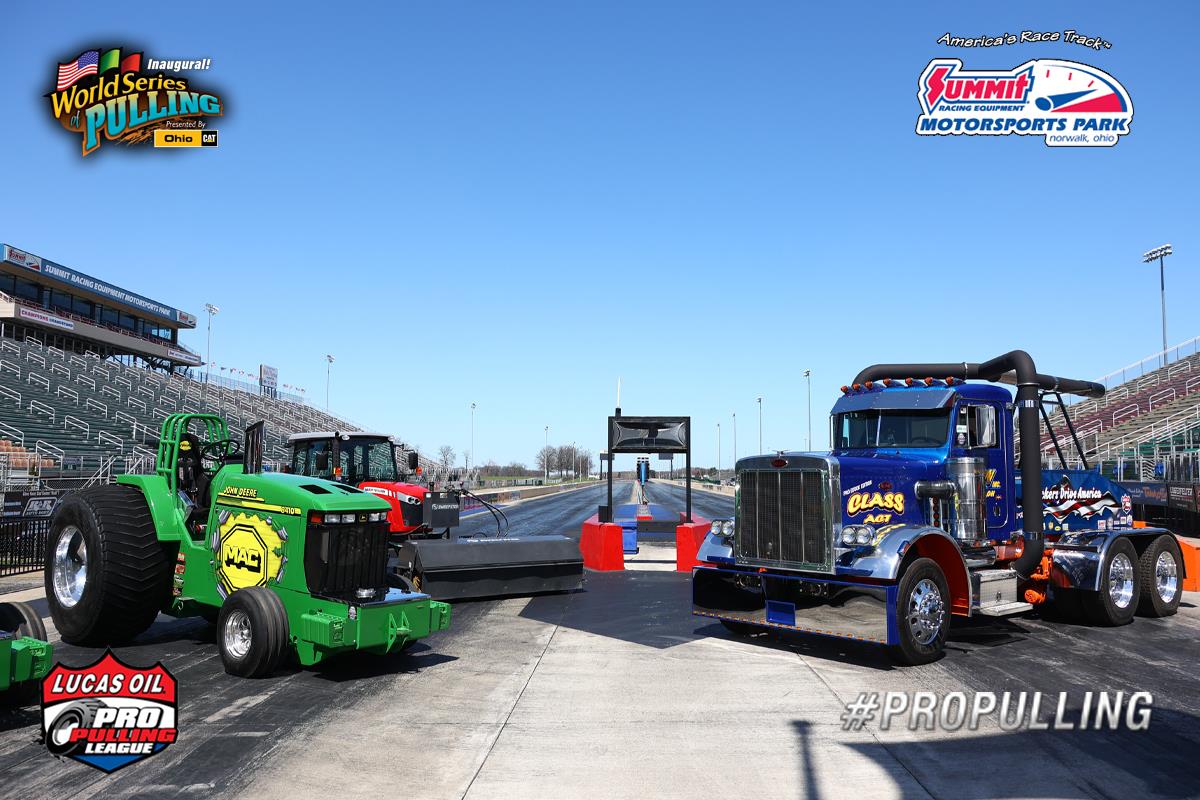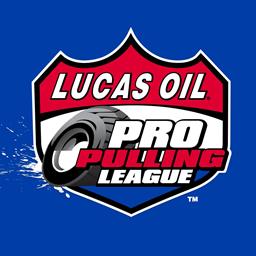 4/18/2022
Lucas Oil Pro Pulling
---
Information Day for the Inaugural World Series of Pulling Presented by Ohio CAT Draws Full House of Community Leaders, Sponsors and Media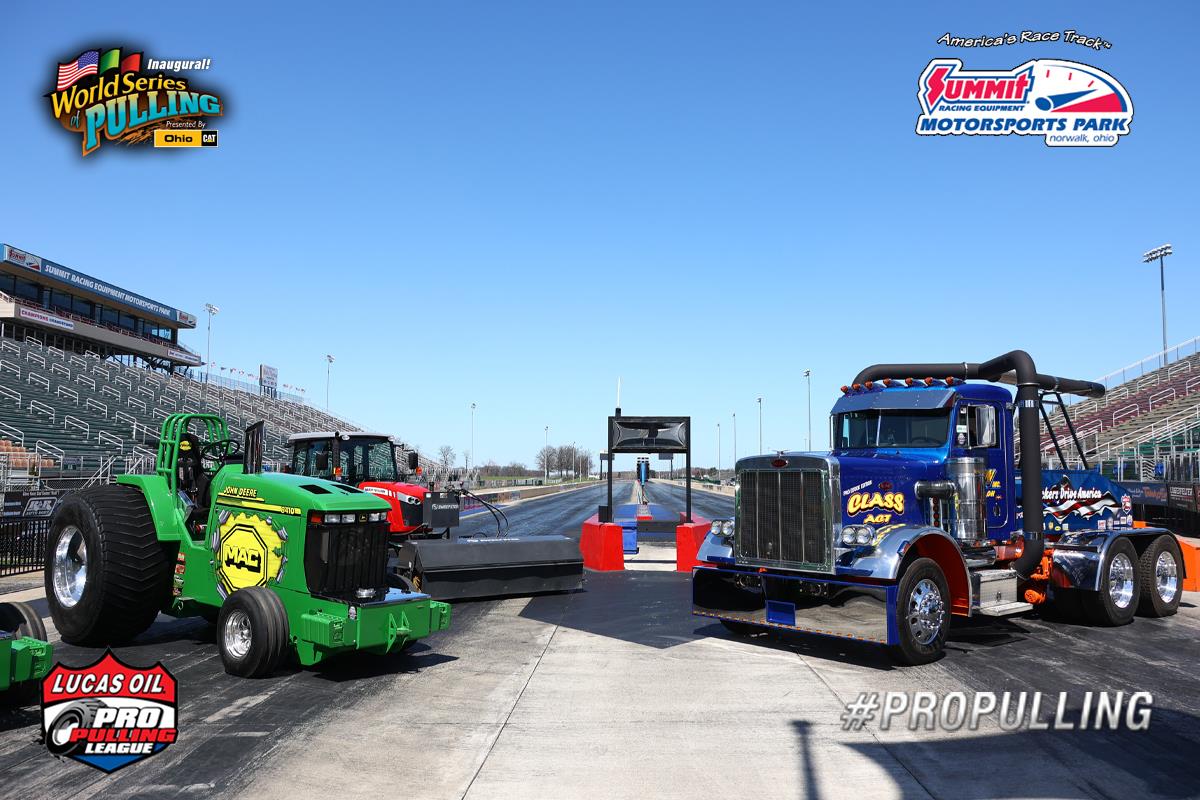 Charlestown, IN (April 18th, 2022) – As the sun shone over Summit Motorsports Park in Norwalk, Ohio on Thursday, April 14th, a large contingent of community leaders, sponsors, pullers, and media gathered for an information day leading up to the Inaugural World Series of Pulling presented by Ohio CAT. The event, prior to the information day, had drawn massive interest from the pulling world and beyond.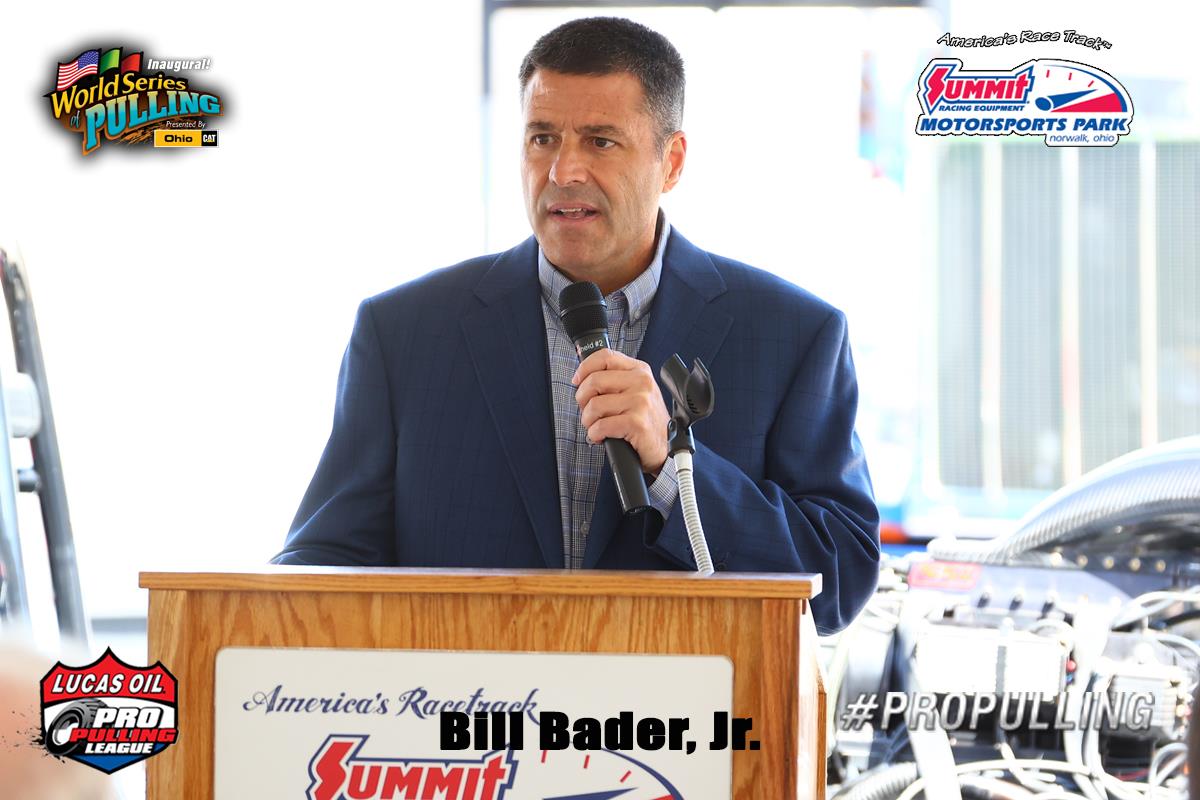 Summit Motorsports Park President Bill Bader, Jr. oversaw festivities, offering introductions of special guests and opening remarks for the full house gathered with a backdrop of Lucas Oil Pro Pulling League competition vehicles. In his remarks, Bader described a moment of reflection he had in 2020 upon the purpose of the sprawling 320 acre, 30,000-seat complex. He offered, "that is not a race track, that is a stage..we are in the entertainment business, we've always believed that, but I took that to a new level." On the heels of discussion in 2021 with a promoter for a pulling event at the SMP complex that didn't come to fruition, a call from Bader's pulling mentor Michael Ott got the ball rolling again for a pull. Bader commented that "the fuse that I thought was out (for a pull) was re-lit, and not only was it re-lit, but this event will be far and away a better event than what we would have had…We are going to transform this facility, we're gonna cover it in dirt, 20 inches of dirt, 60 feet wide, 450 feet long. The immediate reaction was, what the hell are you doing? Why would you do that? I've had drag racers send me emails and say, 'I thought you were a drag racing facility.' And I said no, we are an entertainment (facility). We are family-centric, family-oriented entertainment. And, ironically, over the course of the last couple of months, I have people in my own neighborhood that could have cared less that I owned a racetrack; now, they're my best friend…it's remarkable the enthusiasm, and it's occurred to me that we've all gone to a tractor pull at a county fair. Not everybody, not every kid, grew up going to a race track…I want to make a distinction, this is not a county fair tractor pull. This is a national event for ten Champions Tour classes and we are going to re-invent how tractor pulling is done…The goal is to move tractor pulling into that mainstream spotlight that it so incredibly deserves and desires; and we are going to wrap that around the concept of entertaining mom, dad and the kids…we are in the entertainment business, that's what we do."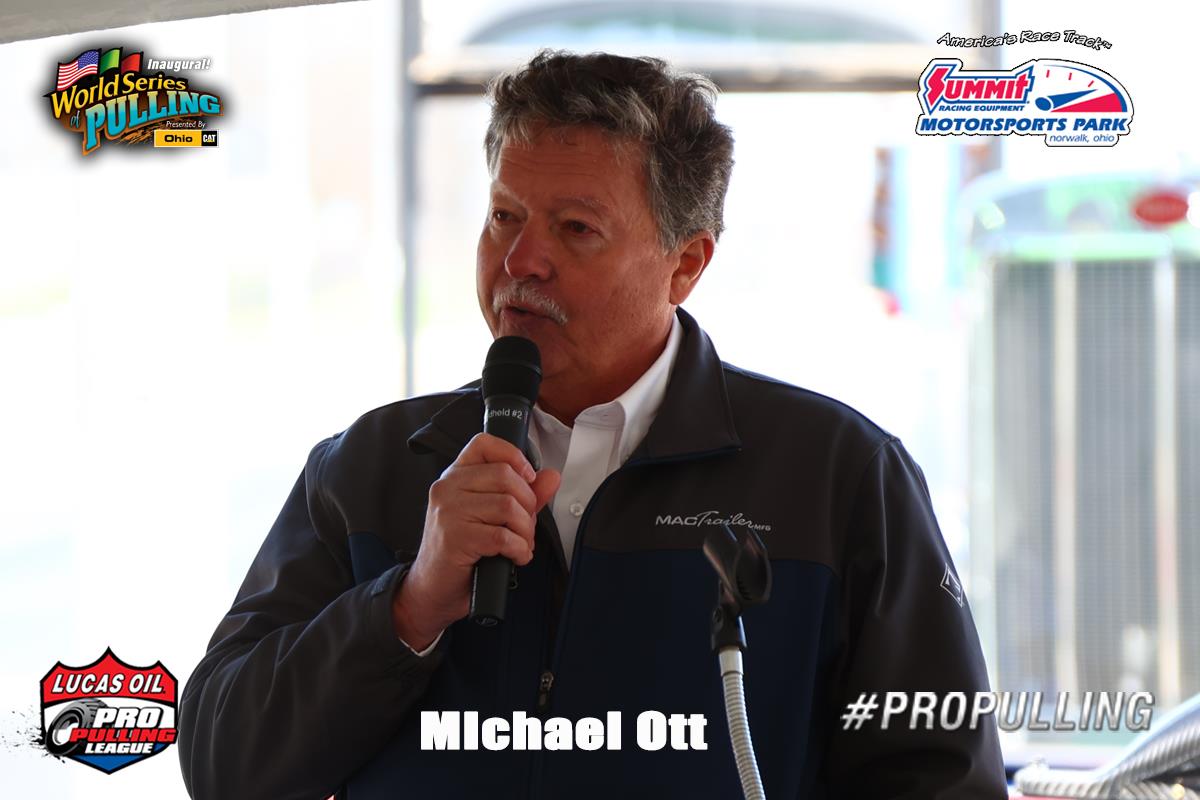 Bader then introduced Ott, who brings with him decades of leadership experience from multiple pulling organizations. Ott addressed the group on the logistics of transforming the track from an elite drag racing surface to a pulling track in an efficient manner. He described that process when he served as an event manager for Clear Channel/USHRA to transform a stadium from one competition surface to another in a matter of hours. "we used to do the World Finals for the US Hot Rod (USHRA) and covered the Astrodome (in Houston, Texas) in dirt and pulled on Saturday; Sunday we were watching a football game on that same field. So it's very possible to get it accomplished…we are gonna have a very good crew in here, very efficient in making this happen." Ott went on in detail about dirt at the ready, currently stored indoors for the event and the process of stripping the drag racing surface of the sticky top layer to the base surface. From there 1200 pieces of ¾ plywood would be laid down and approximately 100 loads of the dirt would be laid down for the 450 foot long, 60 foot wide pulling track. Ott also offered, "We're gonna bring the best of the best here, we've sanctioned this year's event with the Lucas Oil Pro Pulling League, we will be a Champions Tour event; we'll have ten divisions (that will compete) in two rounds of qualifying for each division…to qualify to run Saturday night (finals) is not a normal thing for tractor pulling; there's only one other event I'm aware of that does an actual Saturday night finals. We're going to crown a Champion, all of the divisions will run twice (with) the top five competitors out of the qualifying mix will come into Saturday night for a big finals and a big purse, and we will crown a champion, and then (end the night) fireworks…It should be an incredible event; our goal is to entertain these fans…we know that's what it's about, from the sponsors, to all the fans we want to make this an event that will put Norwalk, Ohio on the map as the place to be for truck and tractor pulling."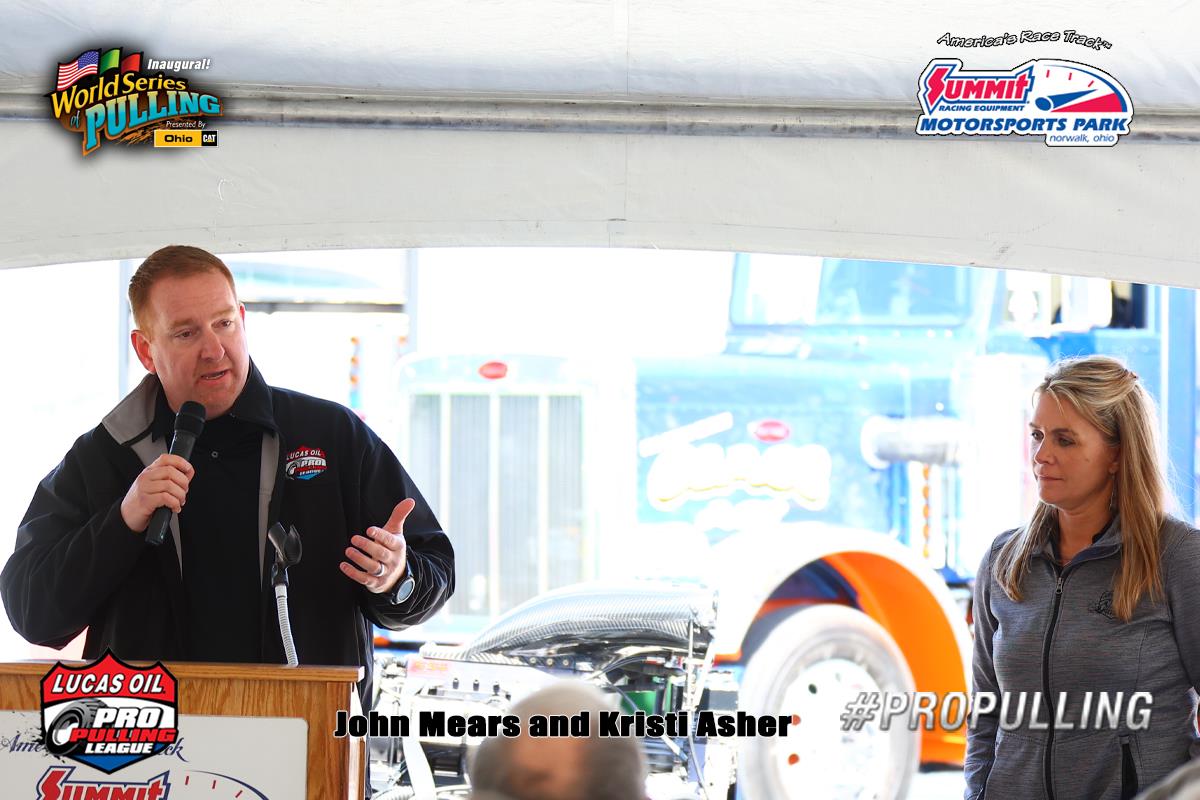 John Mears and Kristi Asher, co-directors of the Lucas Oil Pro Pulling League were then introduced by Bader for remarks about their involvement in the event. "When the opportunity came around to deliver an event here (at Summit Motorsports Park) I jumped for joy," Mears offered. "This is going to be an awesome event…part of it that we'd heard about Bill, someone had called him a maestro of an orchestra; I'm more of a sports guy…out there (the track) is the court, the field, the diamond, whatever it is…he's the coach…we're gonna make a win. With the vehicles that are here (on display), I've said this many times at driver's meetings: we have the best of the best, I'll take them anywhere, anytime, bar none. Lucas Oil is an American-made company, everything is made in America and sold to the world. (The event) will be on livestream, and we'll deliver the best dang product we can."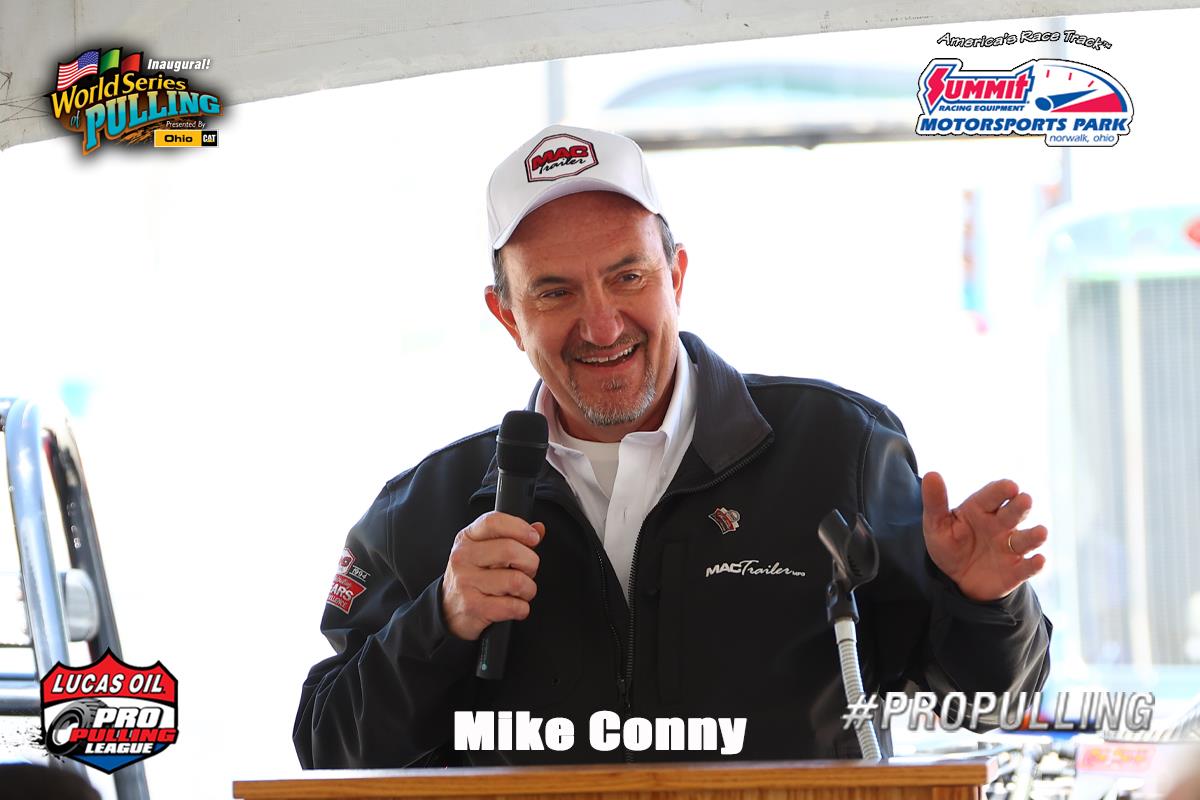 Closing out the meeting were remarks from the four pullers whose vehicles on display at the meeting. Mike Conny (MAC Nasty and MAC Daddy Pro Stock John Deeres, also one of the vital supporters of this event), Chris Wood (Class Act Peterbilt Hot Rod Semi), Jeff Hotem (Blaster Fully Loaded John Deere Unlimited Super Stock) and Jeff Hirt (Lil Bare Mini-Rod Tractor) noted their enthusiasm for the event and appreciation for the opportunity to compete at the world-class Summit Motorsports Park facility. Motorsports legend Ken Veney was also on hand delivering his thoughts on the upcoming event. The meeting concluded with Hirt firing up the impressive Lil Bare blown, Hemi-powered machine to the delight of all in attendance.
More information will be forthcoming on this fantastic new pull slated for July 21st-23rd. Watch propulling.com and Lucas Oil Pro Pulling League social media accounts for further information. To learn more about Summit Motorsports Park and the array of events there in 2022 beyond the Inaugural World Series of Pulling, visit www.summitmotorsportspark.com.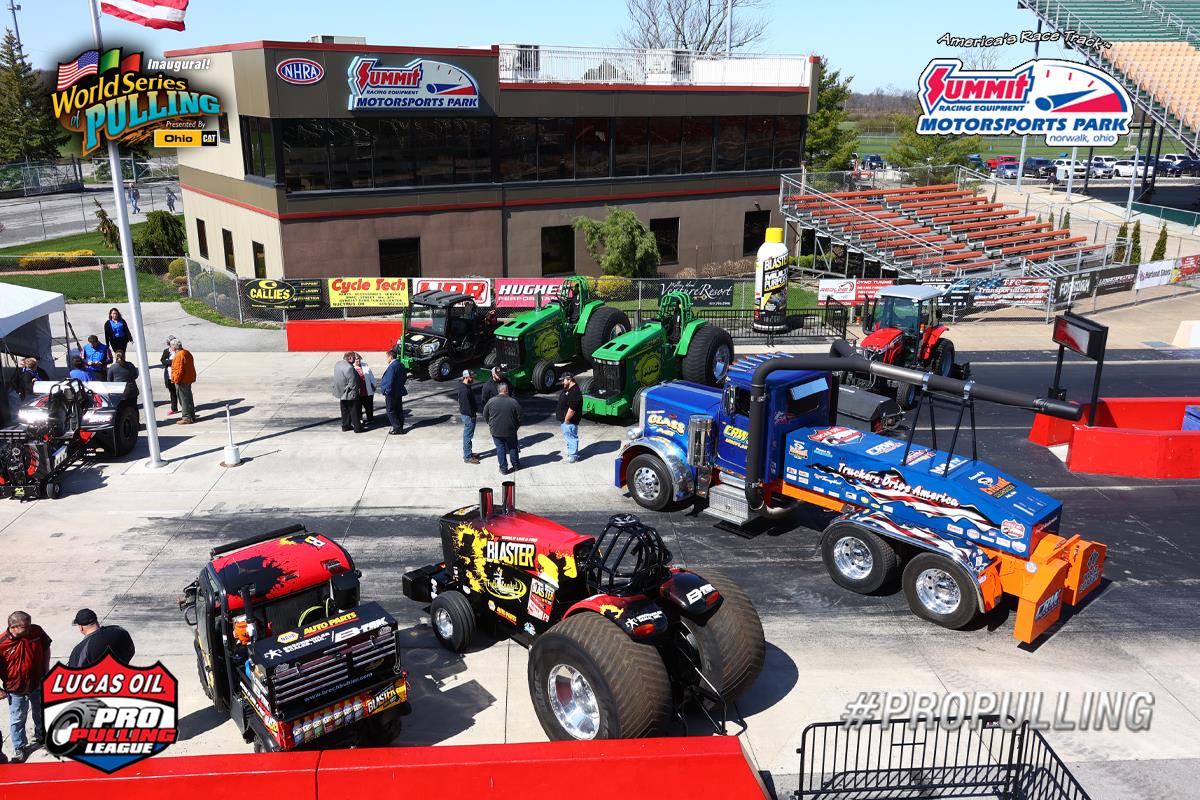 For the latest in news from the Lucas Oil Pro Pulling League stay tuned here at www.propulling.com and follow us in social media at our Facebook page, on Twitter (@propulling) and on Instagram (propullingleague). See us in print media with our Pro Pulling Magazine, published bi-monthly and covering the wide range of Lucas Oil Pro Pulling League National and Regional events as well as our Member-States. Get your subscription to Pro Pulling Magazine at www.hookmagazine.com/propulling.html
Lucas Oil Products is the world leader in high-performance lubricants and problem-solving additives, and distributes hundreds of unique formulations in 40 countries, with continued growth every year. Its television production arm, Lucas Oil Production Studios, manages high-def facilities that create more than 300 hours of programming for the Lucas-owned MAVTV Motorsports Network, and the MAVTV Plus App accessible on all the most popular handheld devices, smartphones and computers.
---
2022 Official Team Lucas Pro Pulling League Marketing Partners
ARP (Automotive Racing Products)
"Official Fastener" of the Lucas Oil Pro Pulling League
Arizona Sport Shirts
"Official Merchandise Provider" of the Lucas Oil Pro Pulling League
Big River Steel
"Official Sponsor" of the Lucas Oil Pro Pulling League
General Tire
"Official Tire" Lucas Oil Pro Pulling League
Lucas Oil Products
"Official Oil" of the Lucas Oil Pro Pulling League
MAC Trailer
"Official Trailer" of the Lucas Oil Pro Pulling League
MAVTV Motorsports Network
"Official Television Network" of the Lucas Oil Pro Pulling League
OPTIMA Batteries
"Official Battery" of the Lucas Oil Pro Pulling League
ProtectTheHarvest.com
"Official Sponsor" of the Lucas Oil Pro Pulling League
RhinoAg
"Official Sponsor" of the Lucas Oil Pro Pulling League
SuperClean
"Official Sponsor" of the Lucas Oil Pro Pulling League
UNOH
"Official Educational Partner" of the Lucas Oil Pro Pulling League
2022 Lucas Oil Pro Pulling League Supporters Include:
Ag Protect 1, Brown and Miller Racing Solutions, Champion Seed, Scheid Diesel, and Thermo-Tec
---
Submitted By: Bryan Lively
Back to News