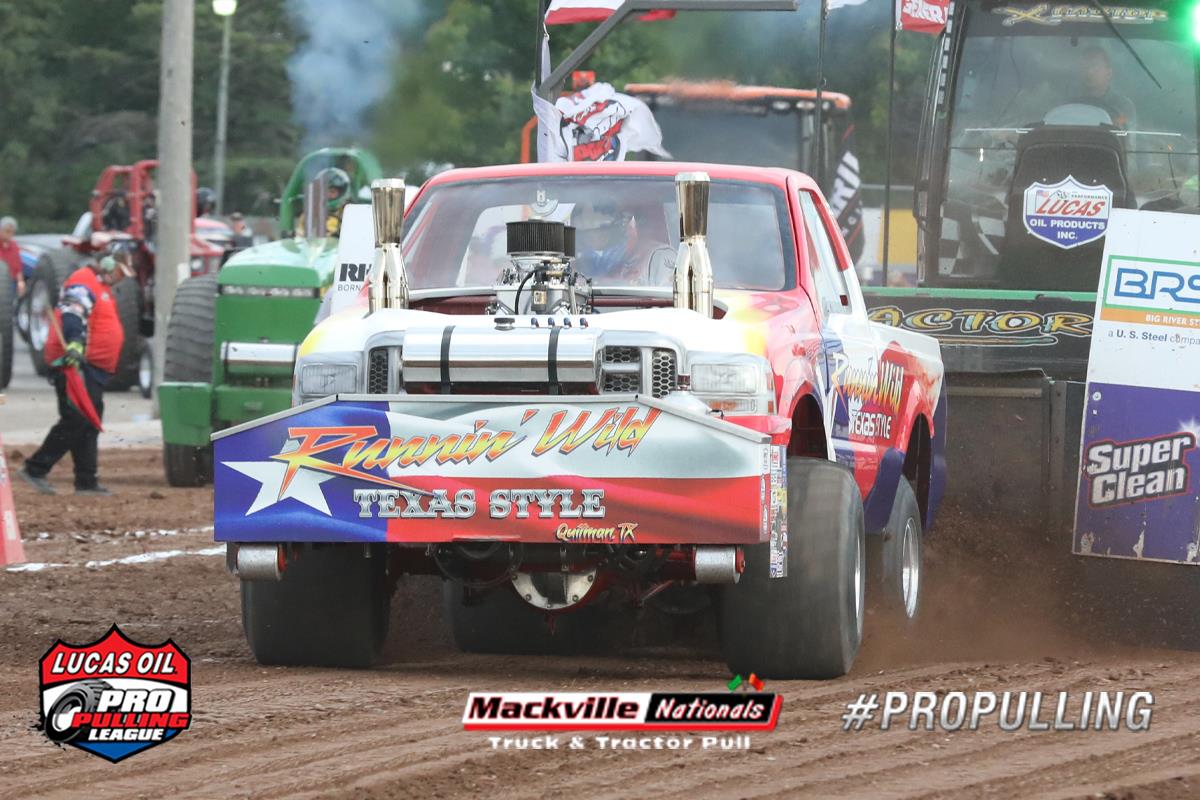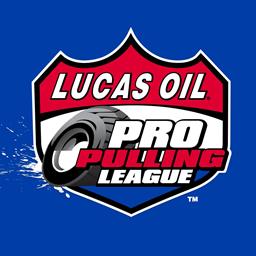 6/21/2022
Lucas Oil Pro Pulling
---
PPL, Badger State Pullers Wow Packed House at Mackville Nationals
Charlestown, IN (June 21st, 2022) – The 46th Annual Mackville Nationals drew a tremendous crowd of pullers and fans alike that featured two sessions of the Lucas Oil Pro Pulling League Champions Tour and Badger State Tractor Pullers competitors on June 17th and 18th.
Held at the St. Edward Parish in Mackville, Wisconsin, the twin track facility was blessed with two excellent evenings of weather where the Terminator and Protect the Harvest X-Factor sled were on track patrol duties for the weekend.
In Friday's opening session the Unlimited Super Stock class Josh Blackbourn laid down a masterful pass early in competition on the Considered Armed and Dangerous-HD CaseIH to take the win in a class of nine entries. Fifteen Pro Mod Four Wheel Drive Trucks made the trip to Mackville where Gary Varner and the Fast Break Ford held on for the win in one the sport's most competitive classes. Badger State Tractor Pullers class winners on Friday night included Collin Birkholz in Light Pro Stock Tractor on his 1456 JH; Mike Evans and the It's No Joke in Mini competition; Willie Deppe and the Old School Chevy in Super Modified Two Wheel Drive Truck; Jamie Larse in Pro Stock Diesel Truck piloting his Dodge named The General; and Jason Raun was the victor in Pro Stock Tractor aboard the Industrial Force John Deere.
Saturday's session had a host of new winners and one repeat victor. Terry Blackbourn's pass on the Extremely Armed and Dangerous CaseIH stood up for the class win in Unlimited Super Stock while Charlie Hinds and the Runnin' Wild Texas Style Ford emerged as winners in the Pro Mod Four Wheel Drive division. Mike Evans was the repeat winner of the event on his It's No Joke Mini, with Tom Gallitz on the Runnin' in the Red IH taking the 4.1 Limited Pro Stock win, Brandon Coates and the Fuelin' the Fire Deere netting top honors in Pro Stock Tractor, Terry Timmerman wheeling the Hot and Nasty Chevy to the Super Modified Two Wheel Drive victory, and Jared Ripp and the Farmer's Nightmare Dodge on top of the Pro Stock Diesel Truck class.
Up next for the Unlimited Super Stock and Pro Modified Four Wheel Drive classes is the inaugural World Series of Pulling event at Norwalk, Ohio set for July 21st-23rd. Stay tuned to ProPulling.com for more information on this stellar new event. Badger State Tractor Pullers competition continues their season at Edgerton, Wisconsin on July 9th.
For the latest in news from the Lucas Oil Pro Pulling League stay tuned here at www.propulling.com and follow us in social media at our Facebook page, on Twitter (@propulling) and on Instagram (propullingleague). See us in print media with our Pro Pulling Magazine, published bi-monthly and covering the wide range of Lucas Oil Pro Pulling League National and Regional events as well as our Member-States. Get your subscription to Pro Pulling Magazine at www.hookmagazine.com/propulling.html
Lucas Oil Products is the world leader in high-performance lubricants and problem-solving additives, and distributes hundreds of unique formulations in 40 countries, with continued growth every year. Its television production arm, Lucas Oil Production Studios, manages high-def facilities that create more than 300 hours of programming for the Lucas-owned MAVTV Motorsports Network, and the MAVTV Plus App accessible on all the most popular handheld devices, smartphones and computers.
####
---
2022 Official Team Lucas Pro Pulling League Marketing Partners
ARP (Automotive Racing Products)
"Official Fastener" of the Lucas Oil Pro Pulling League
Arizona Sport Shirts
"Official Merchandise Provider" of the Lucas Oil Pro Pulling League
Big River Steel
"Official Sponsor" of the Lucas Oil Pro Pulling League
General Tire
"Official Tire" Lucas Oil Pro Pulling League
Lucas Oil Products
"Official Oil" of the Lucas Oil Pro Pulling League
MAC Trailer
"Official Trailer" of the Lucas Oil Pro Pulling League
MAVTV Motorsports Network
"Official Television Network" of the Lucas Oil Pro Pulling League
OPTIMA Batteries
"Official Battery" of the Lucas Oil Pro Pulling League
ProtectTheHarvest.com
"Official Sponsor" of the Lucas Oil Pro Pulling League
RhinoAg
"Official Sponsor" of the Lucas Oil Pro Pulling League
Summit Racing
"Official Sponsor" of the Lucas Oil Pro Pulling League
SuperClean
"Official Sponsor" of the Lucas Oil Pro Pulling League
UNOH
"Official Educational Partner" of the Lucas Oil Pro Pulling League
2022 Lucas Oil Pro Pulling League Supporters Include:
Ag Protect 1, Brown and Miller Racing Solutions, Champion Seed, Scheid Diesel, and Thermo-Tec
---
Submitted By: Bryan Lively
Back to News